Kindle App for Tablets Shows Sneak Peak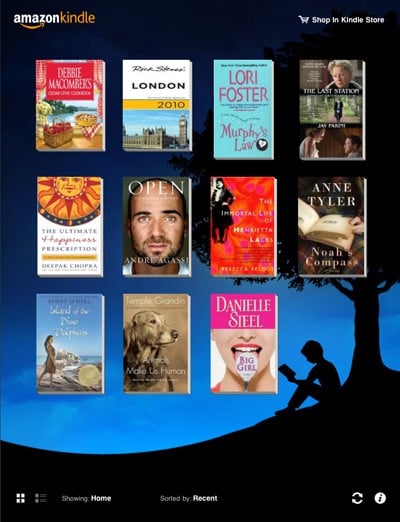 With the iPad scheduled to hit users hands the day before Easter, Amazon is showing off the Kindle app that they hope will one day grace the iPad. We already know Barnes & Noble is working up its eBook reader app as well. But the Amazon Kindle App is not just for the iPad, its for all of those Tablets that everyone is expecting to eventually show up for sale.
But the Kindle app won't be available at launch of the iPad, like many other iPad apps, as developers are actually waiting to get their hands on a device to test their software on and not going to market after just testing and running it on the emulator. Apparently there are a few developers who have gotten their hands on the device to test, but they've had to deal with some pretty amazing restrictions from Apple to do so.
When and if it debuts, the Kindle app promises color screens, a page turning metaphor that looks similar to what Apple's iBooks offers. There's also a cover screen animation that has the sun moving to tell you the time of day.
We'll have to wait and see.

As an Amazon Associate I earn from qualifying purchases.