Kindle Cloud Reader Launches, Rocks on iPad
Amazon hasn't officially announced the new online ebook reading application, but it is now live at read.Amazon.com.
The new online kindle reading app is officially known as the kindle cloud reader, and works in Chrome, Safari and on Safari on the iPad. iPad access is huge, because it gets around Apple's restrictive in app purchase and link to web store terms and conditions. There is no support for Android browsers yet, but since the app terms are more favorable it isn't as big of a deal.
The kindle cloud reader includes a link to the Amazon kindle webstore on the iPad, which is missing from the current app. Even better, the webstore is optimized for the iPad. This means no accidental taps on the wrong link or zooming in to make a purchase.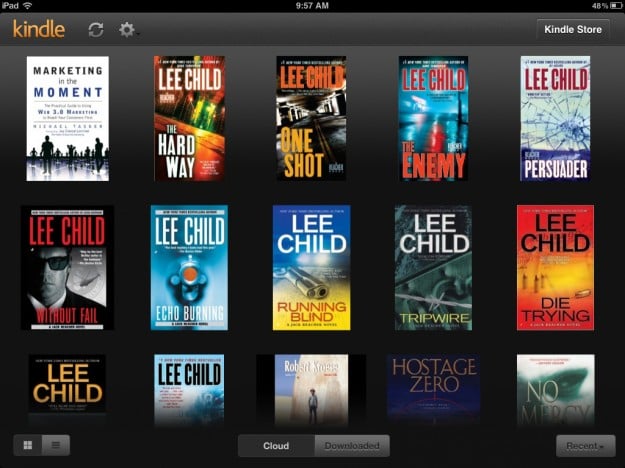 The app uses HTML5 to get the job done, and even supports offline use, which means you may soon be using the kindle cloud reader as your default way to read kindle books on the iPad.
Reading Experience
When it comes to reading in the cloud reader, it is a pretty enjoyable experience. You can save the app for offline use, adding an icon to your home screen for easy access when you want to read.
Page turns can be performed by swipe or tap, but are a bit slower than the native app. You can adjust the reading color and font size like you could in the app. You can also add and view bookmarks and notes in the cloud reader. I had trouble saving the app for offline use on my iPad with iOS 5, but it should work fine on iPads running iOS 4.
Kindle Cloud Reader Hands On
After using the web app to read a short section of my recent read, I can see this as the future of the Kindle platform, especially if Amazon can make it platform agnostic. The page turns were a bit slow, but I am hopeful this will improve over time.
The Kindle store for the iPad is worth it alone thanks to the optimizations I mentioned. The new layout is much nicer on the eyes, and easier to use. Now it is easier to see recommended titles, and I already found at least one new book to purchase based on the new layout.
How To Use Kindle Cloud Reader Now
To start using the kindle cloud reader on your Windows, Linux or Mac Computer, or on your iPad, open up Chrome or Safari and navigate to read.amazon.com. When prompted, install the extension or save the app for offline use. That's it, get reading.
Gallery