Kindle Fire 6.2.1 Update Can Be Rooted and Blocked With Some Work
The Amazon Kindle update did more than add a little polish to the interface. It also broke the one-click rooting method developers posted over at the XDA Developer's Forum. You can still keep root if you block the over the air update (version 6.2.1) that Amazon started to push out this week. If you've already received the update and are daring, you can still root the device. however, the one-click methods won't work. If you have root and don't want to it broken, then follow the steps below for blocking the update entirely until.
Blocking OTA Updates
To block the OTA updates from Amazon, first install an app called DroidWall, which limits apps on your Android device from accessing the net. You will have to be rooted and have the Android Market installed in the first place. If your Fire hasn't been rooted, then you can get DroidWall from Google Code and side load it. Also, you can root the device with the one-click tool found at XDA, which will let you install the Android Market.
If you download from Google Code, then hook your Fire up to a PC or Mac via USB and place the APK file in the downloads folder. Install it using ES File Explorer or some other file browser.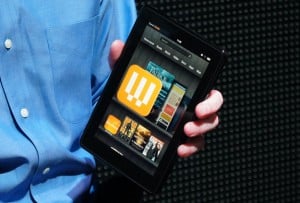 From DroidWall put the app into "Mode: White list (allow selected)" which lets you then select apps to allow. Pick the apps you want to allow online, like the email app, Netflix, Amazon video apps, and others. Any other app not selected in DroidWall won't be able to get online. Enable the firewall in the app and you're done.
Root 6.2.1
You can get root access with 6.2.1 by installing a pre-rooted version of the update. You still have to be running the older 6.2 version. Find the files and instructions at XDA. According to those who have tried, this isn't easy and could totally screw up your Kindle Fire. You have to be rooted and the FireFireFire bootloader installed with TWRP 2.0 custom recovery. If those don't mean anything to you, it might be a good to wait till you can get another one-click root method or a simpler one. I don't expect this to take long based on past experience.
Source: Liliputing and Gizmodo