Kindle Fire Document Sync Doesn't Include Notes and Highlights
Kindle Personal Document Sync allows users to send personal documents, like Word Docs and PDFs to their Kindle Fire. You can read the documents and add highlights and notes just like a book.
Now, you would expect to be able to sync those notes and highlights to the cloud… just as you can right now with books on a Kindle.
You would be wrong.
I doubt this affects a lot of people. Some may not even realize you can sync documents to your Kindle Fire or the Amazon Kindle app on other devices, like the iPad, iPhone or Android tablets and phones. I have a bunch of long documents that I wanted to be able to read, mark up and highlight while using my new Fire. I can mark them up (see a personal document highlighted below), but I will lose them after I am done and remove the document from my Fire because the highlights and notes are not backed up the cloud like the document is.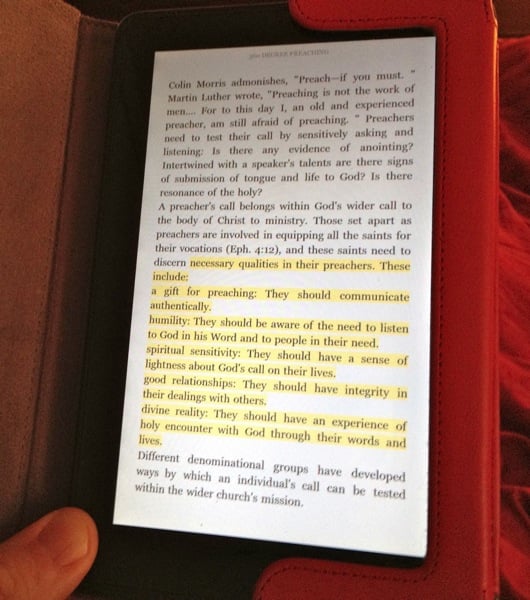 This was confirmed through a thread at the Amazon Customer Discussions site. A user posted a response from Amazon regarding the issue:
Archived documents can be re-downloaded from your archive to the all-new Kindle and Kindle Touch devices, as well as Kindle Keyboard (Kindle 3rd Generation–requires the latest software update v3.3 from www.amazon.com/kindlesoftwareupdates) – you will be able to find and download your documents from any of these devices that are registered to your account.

Now (just as with Kindle books) Whispersync automatically synchronizes your last page read, bookmarks and annotations for your documents (with the exception of PDFs) across devices.

We expect to extend these features to Kindle Fire and Kindle apps (such as Kindle Cloud Reader, Kindle for Android, Kindle for iPhone, Kindle for PC, and Kindle for Mac) in the coming months.
At present the only way to back up your personal document notes and highlights would be to copy the file's complementary .MBP file to your computer when you connect via USB port, which, by the way, is sold separately. The files are in the Documents folder, which you find in the root directory of the Kindle Fire when connected to a computer via USB. Copy the .MBP files to a safe place on your computer. When you need to restore the files after you perform a clean restore of your Kindle Fire or after you have a problem with the Fire and have to replace it and want to put old documents on a new device. You can now copy them back to the Documents directory and they will be ready to view in the Fire's reading app.
Amazon promised to add the automatic Whispersync backup of these files in an update. I can confirm that the Kindle Fire 6.2.1 firmware update that rolled out last week did not include this feature.

As an Amazon Associate I earn from qualifying purchases.