Kindle Fire Handles Archived Books Differently Than Other Kindles
While spending Thanksgiving with family, my wife's aunt asked a question regarding something I took for granted having to do with the location of all of her old Kindle books on the new Kindle Fire. She, like many new Fire owners, collected dozens of eBooks on her old black and white Kindle. When she ordered the new Fire she was upset that "they automatically installed all of my old books" on her new Fire and she couldn't remove them. I was surprised because that didn't happen to me. She then asked, "How do I archive books and where is the archive? I can't find it."
The nomenclature for locally stored versus cloud stored books changed with the Fire and this confused my wife's Aunt. She looked in the Books tab of the Fire and the Cloud section listed all of her books. She mistakenly thought those were installed on her Fire.
In case you're in the same situation, let me explain the difference between the way black and white Kindles and the Fire handle books stored locally and in the cloud. First, some background. The old Kindle had two categories of storage. Locally stored books show up on the home screen. Any book that isn't locally stored shows up in a section called archived, listed last on the home screen (see the white Kindle on the left below). To get your old books on your Kindle you open the archived books section and select the book to download it, and it is transferred to the home screen.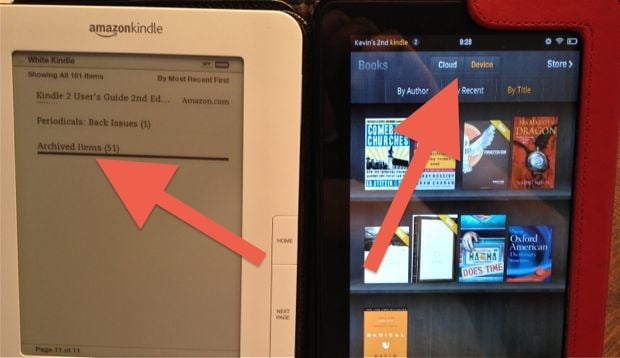 With the Fire there is no section called Archived. Instead you have two tabs on the Books screen – Cloud and Device (see the Fire above right). Think of Cloud as Archived Items and Device as the locally stored books. To move a book from the Cloud to the Device just tap it.
Once you are finished reading a book you can remove it from the Fire by tapping and hold till the pop up menu appears. Tap on remove and the book no longer takes up local storage but will be listed in the Cloud section.
Also the Store tab in the upper right takes you to the Kindle eBook store. There you can buy or sample books. You can also take advantage of the free book borrowing feature where you get to download selected books and read them so long as you finish within a month. Not all books are available for one month borrowing, and you have to be an Amazon Prime member.

As an Amazon Associate I earn from qualifying purchases.