Kindle Fire HDX 8.9: Review
Tablets are everywhere these days. They come in a variety of sizes and price points. Some are real quality devices with quality software to run on them. Some are of the low cost variety with lousy hardware and lousy user experiences. Stuck in the middle of those two extremes are Amazon's Kindle Fire Tablets, specifically the latest Kindle Fire HDX lineup that was released in the fall of 2013. Does that make the Kindle Fire HDX an average Tablet? No, it is far better than average. In fact its hardware and user experience are very good. But in my view it lacks and misses in just enough places to not be the class of the field. I'm not sure that really matters for most. In fact, I think Amazon wants to create a Tablet experience for the masses that is better than the junk Tablet line, below the high end line, but offers a quality experience good enough to disguise its shortcomings.
It's like enjoying a bottle of wine. It may not be the most expensive bottle on the wine list, but for most it will serve its intended satisfying purpose.
Amazon has done an excellent job of advancing its Tablet offerings since the first Kindle Fire debuted in 2011. It has made solid advances in both hardware and its forked version of Android now called Fire OS. I purchased that first Kindle Fire and liked its consumer potential quite a bit.
Read: Kindle Fire Review-A Nice Small Flame
But I've since passed on previous versions because of one of the reasons I am an Amazon Prime subscriber. Yes, the shipping matters, but Amazon has made its services available on other platforms negating the need for me to own a Kindle Fire Tablet to enjoy them. That, coupled with the fact that there are things I can do on an iPad or Android Tablet that I can't do on a Kindle Fire made that decision easier.
So, what changed? Why did I recently acquire a Kindle Fire HDX 8.9 Tablet? I decided that I wanted to give Amazon's new Fire TV a try. And to do that I felt like I needed to see how the Kindle Fire HDX worked in concert with the Fire TV.
Read: Amazon Fire TV: Review
Am I glad I did? Largely yes. There are drawbacks to the Kindle Fire HDX 8.9, but they are in most cases outweighed by the benefits.
Amazon Kindle Fire HDX 8.9


Review Guide

Related Review Articles

Buy the Kindle Fire HDX 8.9
Read on for more specifics.
The Review Configuration
The Kindle Fire HDX I'm reviewing is a 8.9 inch model with 32GB of storage. It's WiFi only and it comes with what Amazon calls Special Offers. (Translation-advertising.) If you want a version without Special Offers it will cost you an extra $15 when you order your unit. You can change that after you've received the unit unless you go to Manage Your Kindle on the Amazon site. Special Offers means you'll see advertising on the Lock Screen when you boot up. The model I'm reviewing cost me $429. Prices for the Kindle Fire HDX 8.9 with different configurations for storage, Special Offers, and LTE range from $379 to $549. The 7-inch variant has less expensive prices.
The Target Market
Amazon is all about consumers and consumption. If you think about Amazon's move into devices for any other reason you're deluding yourself and reading too many press releases. Yes, the Kindle Fire HDX 8.9 boasts some new features for business users. We'll talk about those later in this review. The Kindle Fire HDX Tablets are all about reading, viewing, listening, gaming, and shopping. Specifically it is about doing those things with content that Amazon will gladly sell you. As a consumer device it excels.
It's not a geek's Tablet either. Amazon's fork of Android, Fire OS, can be hacked, but I can't understand anyone purchasing it for that reason given other alternatives on the market. I find it intriguing that with all the gadget hounds we have running around the virtual offices of GBM that we haven't posted a review of the Fire HDX Tablets yet. I think Kevin is the only other writer here who owns one and he just got his recently.
Look and Feel
The Kindle Fire HDX 8.9 feels solid and well built in the hand. It is very light and impressively so. While the Tablet can be used in either portrait (vertical orientation) or landscape (horizontal), the placement of control buttons on the back and how some of the content is displayed indicate that the designers prefer the landscape orientation. Amazon makes a big deal about the device's thin profile and rightly so. It is very thin and given the lack of weight very easy to hold in one hand.
Amazon also makes a big deal about the Fire HDX 8.9 being lighter than the iPad Air. (0.82 lbs vs 1 lbs.) Quite a few reviews and commentary have picked up on this, as well as some claim from somewhere that it is also thinner than the iPad Air. Let's clear this up.
The iPad Air is a larger form factor than the Kindle Fire HDX 8.9. It should weigh more given the extra length and width. It does. Edge to edge the Kindle Fire HDX 8.9 looks to be thinner. That's deceptive because of the beveled back of the Kindle Fire HDX 8.9 that slopes in from the edge on all sides to a thicker middle of the device.
According to Amazon's specs the Fire HDX 8.9 is 0.31″ thick vs the iPad Air at 0.29." Lay both Tablets flat on a table and you can see that minuscule difference in thickness favors the iPad Air.
Regardless of the size comparisons the Kindle Fire HDX 8.9 in hand feels as nice and usable as the iPad Air does. Think of the comparison once you layer price into the equation. A comparably equipped iPad Air (capacity and connectivity) costs $599 vs. the Kindle Fire HDX at $444 without Special Offers. That's a $155 difference. If a consumer held each Tablet side by side when shopping I believe it would be tough to justify that cost difference on size difference alone given the excellent build quality of both devices.
Hardware and Specs
The Kindle Fire HDX 8.9 is running a Snapdragon Quadcore processor clocked at 2.2 GHz. Is it fast? Yes it is nice and snappy. There is 2GB of RAM on board which certainly helps move things along briskly. The dual band, dual antenna, MIMO+HT40 Wi-Fi has connected easily and solidly to anything I've tried to connect it to.
I'm very impressed with the sound quality and volume that come from the stereo speakers with Dolby Digital Plus. It's the best sound I've heard from any Tablet bar none. Bluetooth 4.0 is on board. Amazon claims 12 hours of battery life in mixed use. In my week's worth of testing I can't argue with that claim. Yet another Tablet with which there is no issue with battery life.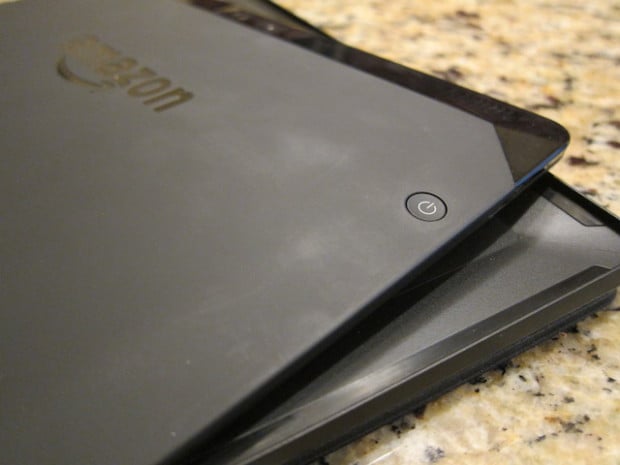 As mentioned before hardware buttons for powering the device on and off and controlling volume are on the back of the device. Their placement takes some getting used to, but once you do, that placement makes sense. As long as you're in landscape mode. In portrait mode I find the placement awkward.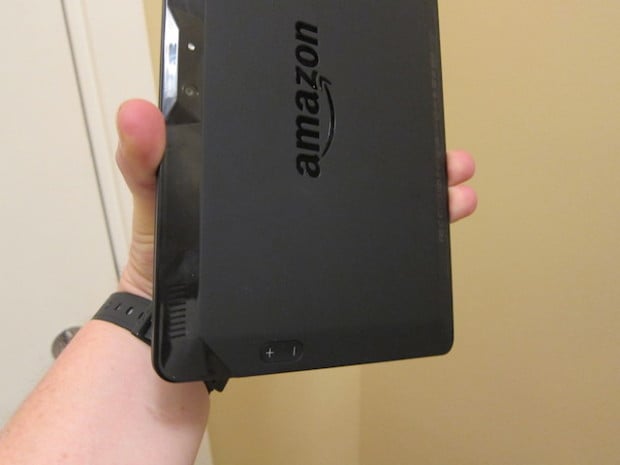 I know Tablets with easily rotating screens aren't meant to be thought of as having a specific "this way is up" orientation. But Tablets with hardware buttons on the sides of the device or on the bottom bezel seem to provide me an easily recognizable way of holding a Tablet in a familiar fashion that makes sense to me.
Display
Much as been made of the Kindle Fire HDX 8.9's screen. The word "gorgeous" is going to need to be retired it has been used so much. The screen is indeed gorge… beautiful.
The screen resolution (2560×1600) and pixel density (339 ppi) add up to a vibrant, rich display with amazing color. In the inevitable iPad Air comparisons I've seen many say the screen is better on the Kindle Fire HDX 8.9 than the iPad Air. That may indeed be the case based on specs. It may also be the case if your eyes can discern the difference. Mine can not. I've watched the same video and compared photos and text side by side. To my eyes there is no real difference. Your included optical anatomical system might see things differently. Either way the display is gorgeous.
Fire OS and Performance
Keeping in mind that I skipped a generation of Fire Tablets, I'm impressed with the development of the Fire OS. Compared to the original Fire Tablet, it actually feels like the OS and the device were built for each other. Amazon only began calling its operating system Fire OS with the third generation of Fire Tablets. Fire OS 3.1 is based on Android 4.2.2. You can tell that quite a bit of work has gone into Fire OS. Everything on the device feels like it is operating the way it is supposed to.
When I'm using the device primarily (as I have this week) I don't sense lag or slowness. Everything feels snappy enough. That said, (another inevitable iPad Air comparison coming here) using the same Apps on the iPad Air make the Kindle Fire HDX 8.9 feel slightly slower at times in comparison to that device. Flipping pages in Flipboard is faster on the iPad Air. Scrolling through Netflix or HBO Go is faster on the iPad Air. However, flipping pages in a Kindle book or scrolling through Amazon Instant Video is about equal or slightly faster on the Kindle Fire HDX 8.9.
This may simply mean that third party App developers need to optimize their Apps more for Fire OS. I've read in other reviews that the Kindle Fire HDX 8.9 has some dropped frame rates in games with high intensity video demands. So this may also be an issue of moving a large number of pixels around on the screen.
The Home Screen and User Experience
The Kindle Fire HDX 8.9 home screen consists of four sections. There is scrollable menu bar at the top that displays content categories. Underneath that is a Carousel view of recently used Apps and content.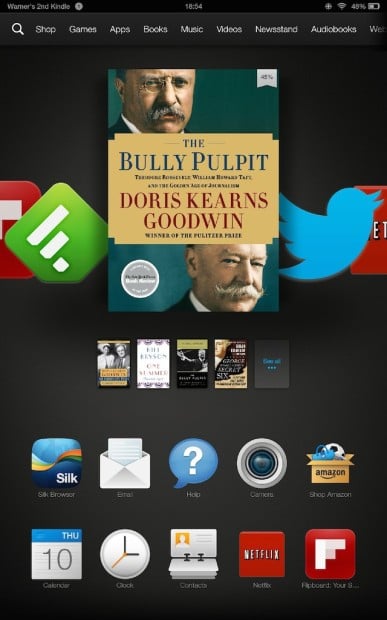 Below that is a morphing recommendation display that changes depending on what's in focus in the Carousel. If an App is in focus then the recommendation engine shows Apps. A book, then books. You get the idea. You can turn that recommendation section on or off in settings. At the bottom is a grid of Apps that you can swipe up for a larger view moving the Carousel up and out of view.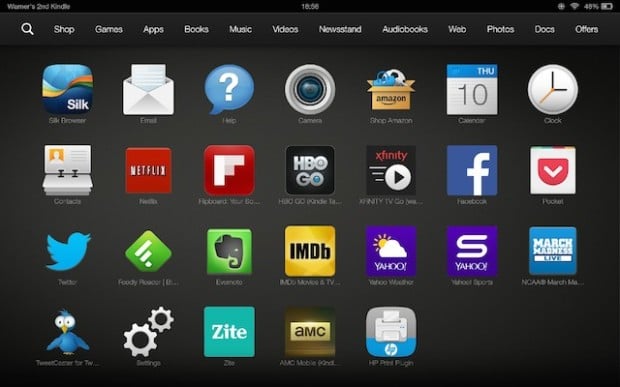 Swipe down from the top of the display and you bring in a notification and settings screen that will look familiar to Android users. From this panel you can lock or unlock auto rotation, adjust screen brightness, goto your wireless settings, turn quiet time on or off, access the Mayday help system, or go deeper into settings.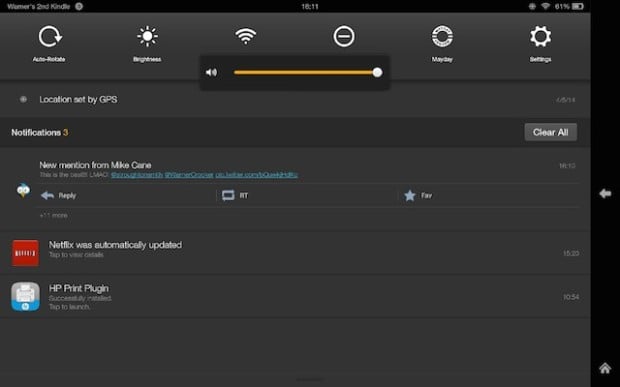 Speaking of settings, finding and adjusting settings is much simpler than on most Android devices. Primarily because their are fewer of them to adjust.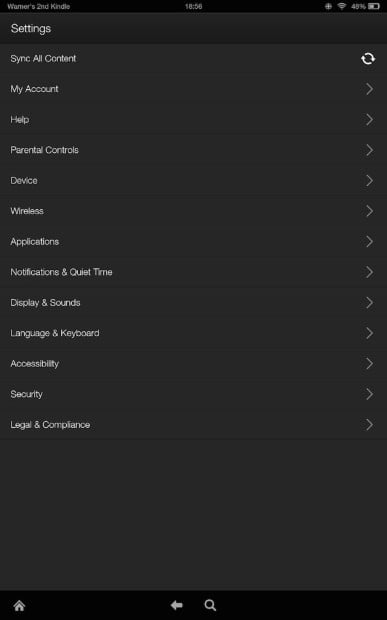 Don't worry, you do have some good control over a number of settings categories, just not as granular as you do on other Android devices.
Notifications can be configured under settings on an App by App basis. There's a big "Clear All" button which is welcome. One problem I have discovered is that I may clear them all, but a few of notifications keep coming back randomly. You'll notice the Netflix App in the picture above is showing as updated. That App was updated earlier today and that notification has been cleared several times, along with the Tweetcaster notification above it. But they both keep reappearing. So there is still some work to do on notifications.
Once you launch an App or content at the bottom of the screen (or side if you're in landscape mode), you will see capitative or touch buttons for Home, Back, and Search.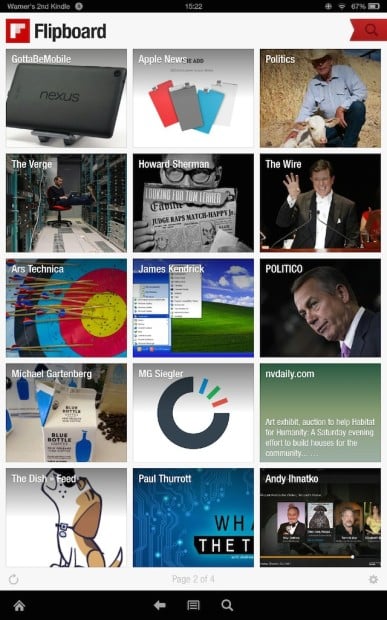 There is also a tab that if you swipe up (or onto the screen from the right in landscape mode) will reveal the most recent Apps or content you have been working or playing with.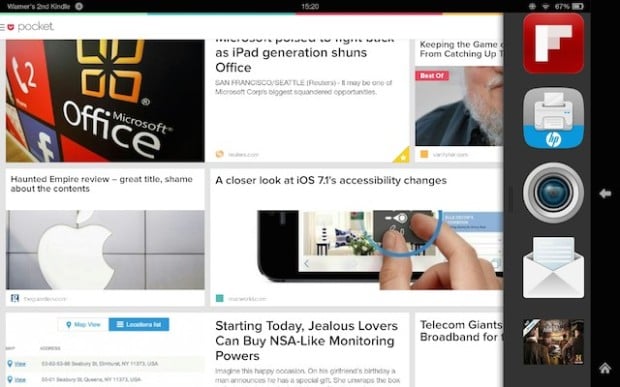 All in all the user experience on the Home Screen and elsewhere is efficiently done. You can do what you want to, when you want to with relative ease.
The Amazon Experience
And that brings us to the Amazon experience itself. Again, these Kindle Fire Tablets are designed to get you to buy stuff from Amazon. Nothing wrong with that. Apple wants you to buy stuff from its stores on iPads too. I liken the Amazon experience on a Fire Tablet to taking a trip to a Disney theme park. Everything is designed to keep you in a very specific world so that you don't wander off too far and spend your money someplace else.
The Carousel
A part of that Amazon experience is right up front with the inappropriately named Carousel that contains recent content and Apps. It's inappropriately named because a Carousel goes around in a circle. Once you reach the end of your recent content on this Carousel, you have to scroll back the other direction. That would be like riding a carousel half way around one direction and then backing up the other direction.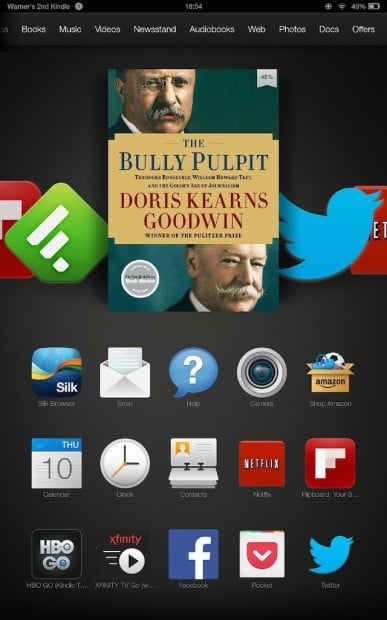 Amazon has built a lot of its recommendation engines around your recent activity. Having the book you are currently reading appear as the most recent entry is logical. There is a good chance you're coming back to it. With Apps, videos, or songs that's not necessarily the case. So, in my view the constant shuffling of an icon that represents my most recent activity doesn't make as much sense.
This reminds me of how Amazon's recommendation seems to fail in my case more often than not. I get that there is some value in basing recommendations on what I just purchased or searched for. But I don't get when Amazon recommends things I just bought or already have. Call me crazy, but if I have already purchased an App, video, or any other product from Amazon, Amazon should know that and not recommend it again. It's why I remove that recommendation engine from the Home Screen.
Moving on. You can remove any of the items in the Carousel view by tapping and holding on them until a pop-up materializes that allows you to jettison it from the non-circular carousel. Fire OS doesn't let you swipe things away. You can also choose to add the item to the grid of Apps and content that appears below the carousel. Either way you have some, but not complete control over how your home screen looks.
The Menu bar across the top of the display is all about Amazon's content. Notice that "Shop" is featured prominently. You can scroll through these categories to see what content you have available on your device or in Amazon's Cloud. Or you can take a quick trip to Amazon to shop for and acquire more, directly from within each category.

It may sound like I'm not in sync with Amazon's way of doing things here. That's not the case. I'm an Amazon Prime subscriber and purchase a lot of content from the little shop of Mr. Bezos. In fact I am an ideal customer for a Kindle Fire Tablet because of that. If you are an Amazon Prime subscriber or purchase a lot of content from Amazon, the Fire Tablets are designed with you and I in mind, no question.
Setting up and Signing In
Setting up a Kindle Fire Tablet is about as easy as it comes. If you order it from Amazon it is already configured with your Amazon account information. Once you power up, your content will magically greet you as if it came in the box. Which I guess it kind of does. If you've purchased Apps from the Amazon App store before, you'll need to download them again, but you can see what you've already purchased. So choosing them to download is easy.
The hardest thing you need to do is enter your WiFi credentials and that's not hard at all.
Mayday Button
Amazon proudly advertises its Mayday help system. And they should be proud of it. It works like a charm. Swipe down from the top of the display and choose Mayday and you're quickly connected to a tech advisor who will help you out.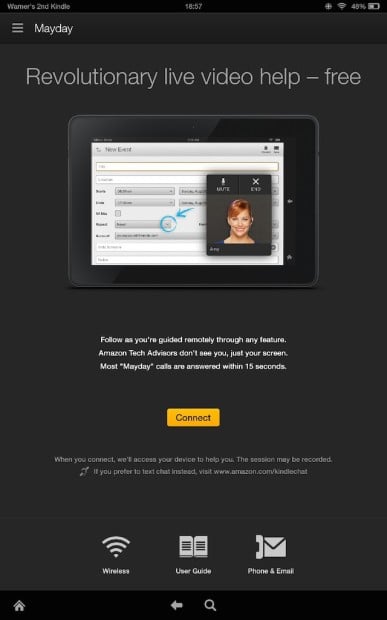 I've connected through Mayday twice and both times have been quick and easy experiences. This is a winning feature for consumers.
Cameras
The Kindle Fire HDX 8.9 comes with both a front and rear camera. The rear camera is an 8-megapixel shooter with f/2.2 optics. Digital image stabilization is onboard as is an LED flash,  HDR, and panorama modes. You can also take photos while simultaneously recording video.  Low light pictures are decidedly grainy and there is a bluer/white cast to the photos taken as compared to the iPad Air as you can see below. In reality the truer color in both the indoor and outdoor shots below tend more towards the warmer/amber.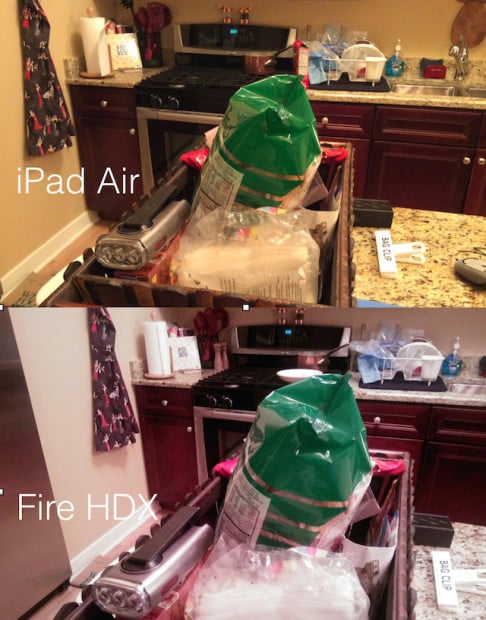 The front camera is listed as 720p and is primarily for Skype or other video calling. Unless you like to take selfies. But the quality isn't that great. (Or maybe its the subject matter.)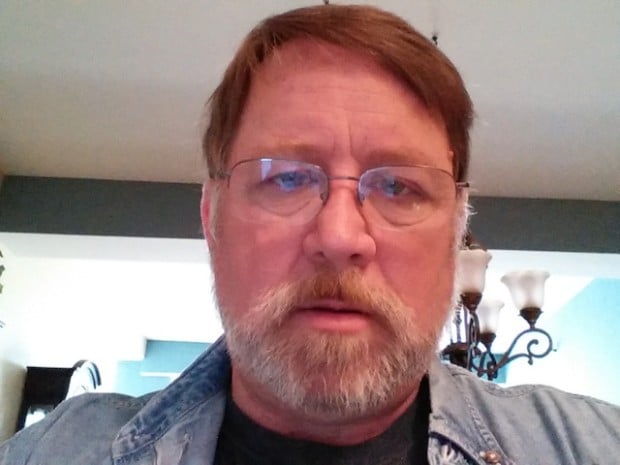 There's an interesting little trick with the camera if you have the Origami case of the Kindle Fire HDX 8.9. At first you might think Amazon goofed because there is not cut out for the camera. But that's not the case with this case. (Sorry). If you slide the Fire Tablet up above the edge of the case the camera App automatically engages.
This works whether your Kindle Fire HDX 8.9 is locked or not. Go ahead. Use this at parties to impress your friends.
Origami Case
Speaking of cases. The origami case for the Kindle Fire HDX 8.9 costs an extra $54.99 but if you're looking for a case for your device in my view it is worth the price.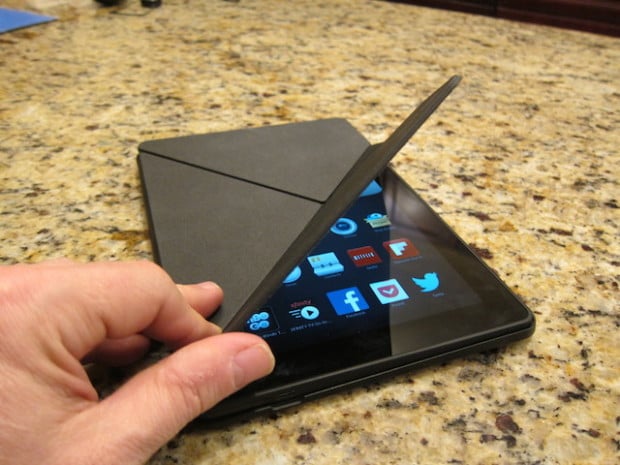 It covers the device all around. The origami like folding of the cover allows you to create a stand so that you can use it to prop up your Kindle Fire HDX 8.9 to view in either portrait or landscape. It works very well. It uses a magnetized system to hold things in place solidly. As we are used to, closing the lid puts the Kindle Fire HDX 8.9 to sleep.
It does add almost double the bulk to a very sleek device weighing in at 10.9 ounces. If you don't mind the extra bulk, I think the design is quite clever.
The Kindle Fire HDX 8.9 and Getting Work Done
Amazon makes quite a pitch that the Kindle Fire HDX 8.9 is well suited for those who like to play the "bring your own device" (BYOD) to work game. The reality doesn't quite live up to the hype. The included email and calendar clients are certainly capable, if nothing to write home about. And you can print wirelessly to printers. (When you go to print the first time you'll be prompted to install an App for your printer.)
You can view Office documents in the included viewer. If you want to edit those documents you'll need to purchase an App to do so. Amazon says it is easy to hook up to your company's network and/or VPN. (I haven't tried this.)
But here's the catch. Unless you're receiving documents as attachments through email you have to sync them over via a USB connection or Amazon's Cloud Sync App. You could use a third party Cloud App but your options are limited. Box is available. But Dropbox isn't. Likewise Google Drive and Office 365 users are left out in the cold unless you use the web interface for those Apps and services. There don't seem to be that many great external keyboard options available that are designed specifically for this form factor. Although a separate BlueTooth keyboard like the Apple Wireless Keyboard works just fine.
At the moment, the Kindle Fire platform may have the infrastructure to connect to a work environment, but circumstances since its release leave it currently lacking when it comes to the range of productivity software and services that can be found on other platforms. "Real Work" can be done, but it will need to be with compromises that the rest of the Tablet market no longer has to accept.
Apps
Speaking of Apps. The Amazon App store is getting better, but it still doesn't have the range and depth of selection that Google Play does for Android. Even some Apps that appear in both don't carry the same features. Flipboard is one of those. Most of the popular Apps are in the Amazon App store, but the depth of selection needs to improve.
And as you should know by now, because Amazon uses its own version of Android as the base for Fire OS you don't have access to the Google Play Store and Google Apps. You can side load those Apps if you want to and instructions to do that can be found here and elsewhere on the web.
Speaking of Apps, the included Silk Browser is perhaps one of the areas that needs the most improvement. It feels quite clunky when compared to other mobile browsers and it also feels like a weaker sister to the other included Apps as well. Given how much some browse on the Internet, Amazon should really work to improve the Silk Browser.
Second screen
I mentioned in the beginning that one of the reasons I purchased the Kindle Fire HDX 8.9 was to see how it worked as a second screen with the Fire TV. It does work quite well with Amazon content. You can also mirror your screen to the Fire TV.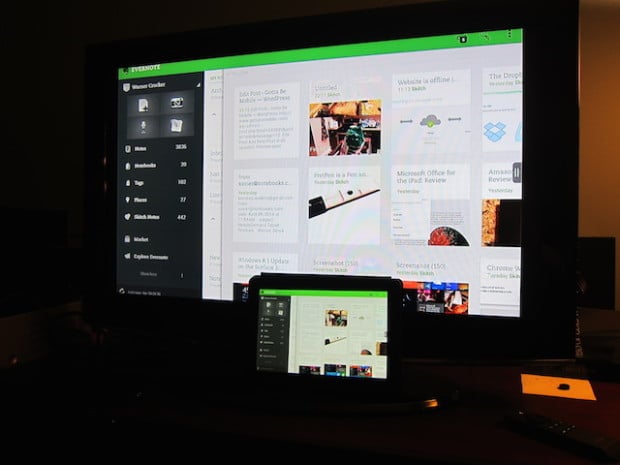 Start a video on the Kindle Fire HDX 8.9 and you can tap a button to send it to your Fire TV. You then have access to Amazon's X-Ray service that is powered by IMDB. That allows your to use your Kindle Fire HDX 8.9 to view info about the content you're watching including cast and crew information and more.
That service isn't available for all video content, but when you're watching a title that does make it available, it is a nice addition.
Comparisons
Throughout this review have been a few scattered comparisons to the iPad Air. That's somewhat inevitable when talking about this device. I have both an iPad Air and a Kindle Fire HDX 8.9. If I had to choose one I would choose the iPad Air. Simply put, I can do more with an iPad Air. That includes much of what I can do within Amazon's ecosystem on a Kindle Fire HDX 8.9. Amazon's strategy of making its Apps and services available on other platforms is both wise and perhaps not so wise at the same time. There really is not a service of Amazon's that I use that I can't access on an iPad Air.
Read: Why the Kindle Fire HDX Tablets Make No Sense to Me Anymore
In addition to that, the Tablet game changed just a short few days ago when Microsoft released Office for the iPad. One of the naysayer arguments about Tablets has consistently been that they are merely consumption devices that you can't do "real work" on. I never bought that argument in the first place. But it is a much weaker and thankfully diminishing argument now. It will diminish more with Microsoft releases a version of Office for Android.
That said, the Kindle Fire HDX 8.9 is the perfect argument for a consumer consumption Tablet. I'm sure there are many consumers who want to use them for consuming gobs of content and couldn't care less about creating a Powerpoint presentation. The newer hardware on the Kindle Fire HDX 8.9 is top notch and makes viewing, listening, reading, and gaming easy and fun to do on a mobile device.
The comparisons are inevitable, but one fact remains as always. It all depends on what you want to do with a Tablet. Both devices are excellent editions of ever evolving platforms. That's a good thing.
Pros and Cons
Pros

Excellent hardware
Beautiful Screen
Very light
Good mid-range prices
For Amazon Prime subscribers it is a great portal to that content and ecosystem

Cons

Software still needs some work
Not really built for business
Locked into Amazon Content primarily
Conclusions
I'll end where I began. The Kindle Fire HDX 8.9 sets squarely between the lower and higher end of the markets from the perspective of price and feature set. For my usage it lacks productivity possibility that I now expect from a Tablet. But as I said, for most I don't think that matters. For Amazon I don't think that should matter either. I understand that Amazon believes it needs to offer productivity possibilities in the competitive race it is in. I don't see that as necessary.
What the Kindle Fire HDX 8.9 offers is a fantastic mobile device to use for entertainment and relaxing, at a price point that sets it far above the bottom tier, and just below the class of the field. It's feature set, design, and performance are top notch. It has some software glitches still to work out. As long as Amazon can keep providing quality content that consumers want to consume, then the Kindle Fire HDX 8.9 is a great way to do just that.

As an Amazon Associate I earn from qualifying purchases.