Kindle Fire 7 Review: $50 Tablet Satisfies Most Needs at a Great Price
Amazon announced that the newKindle Fire 7-inch tablet would cost just $50. How can they make a quality entertainment and reading tablet for that price? They're either loading it with crappy parts and low-end specs or they're losing a lot of money on each device. I ordered the tablet because I wanted to know if a $50 tablet could offer an enjoyable experience while reading books, magazines, or websites. Would it work well for watching TV and movies or listening to audiobooks and music? What about apps and games?
Kindle Fire 7 Display
The $50 Amazon Kindle Fire 7-inch model brings with it a lower resolution display at only 1024 x 600. That's a pixel density of 171 pixels per inch. Amazon also sells a new Kindle Fire HD 6-inch with a 252 pixels density, which translates into 1280 x 800. It costs $99. The older 7-inch Fire HD offered full 720p resolution and cost $199.
Despite the low 1024×600 resolution, the screen looks good enough. Some readers hate glossy color screens and they will hate the new Kindle Fire 7. However, those of us who don't mind can enjoy a decent reading experience for less than the cost of a high-end tablet like the new iPad mini 4 or Samsung Galaxy Tab S2.
The new Amazon Kindle Fire 7 doesn't look very good outside in sunlight or indoors with extremely bright lights. Changing to the low light mode (black background with white text) helps. Turning up brightness to 100% helps too, but it also diminishes battery life.
Kindle Fire 7 Design
The Kindle Fire 7-inch feels thick and chunky. Amazon didn't put a lot of money into industrial design, so don't even try to compare it to tablets like the iPad mini 4 or Galaxy S2. Both of those tablets cost at least 8 times more than the $50 Kindle Fire 7.
Amazon replaced the squared off design of last year's 7-inch Fire with a rounded design on the backside edges. That makes it feel more comfortable while holding the tablet.

Kindle Fire 7 Storage and Cloud Drive
The budget Kindle Fire 7-inch tablet comes with only 8GB of storage, however, they included a micro-SD card slot expandable up to 128GB. Unlike regular Android, the Amazon branded Fire OS 5 lets users install apps and store content on an SD card easily. With regular Android devices the user may need to hack the system to get some apps to run from an SD card. This potentially frees up a lot of space. Fire OS 5 also periodically offers to free up space by archiving files not used in a long time.
Any content purchased through Amazon that can stay in the cloud doesn't count against the user's alloted Amazon Cloud Drive storage. Photos taken with the tablet will upload to Amazon's servers and they also don't count against the user's storage. Users get 5GB of Amazon Cloud Drive storage for free for their personal files. Unlimited storage costs $59.99/year. Use that for media or general backup by installing the Cloud Drive app ono your other mobile devices or on a computer.
Kindle Fire 7 Cameras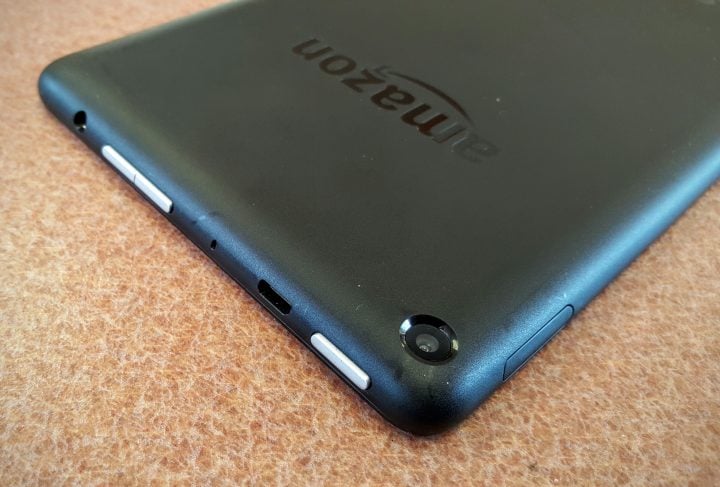 The Fire comes with a 2MP rear camera that's not great. It's most useful for scanning documents or to capture quick moments that you want to remember but don't plan to display publicly. Most people also carry a smartphone with a far better camera. For $50 it's amazing they include not just one but two cameras. The other is a front-facing VGA quality camera which is useful for video chat and little else. You won't likely take many selfies unless you're desperate and can't find your phone.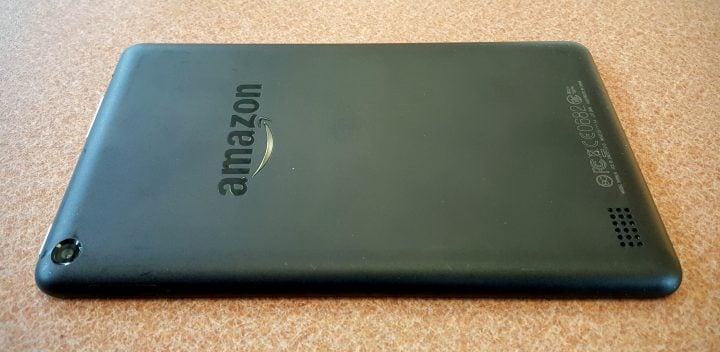 Performance and Battery Life
For a $50 tablet with a meager 1.3GHz quad-core processor and only 1GB of RAM, the budget Kindle Fire 7-inch tablet runs well. Apps and games pop open the moment the user taps the icon to load them. Swiping screens feels fluid and the tablet turns on quickly and boots cold in under a minute.
The battery life lasts every bit of the promised 7 hours. It also lasted for days in stand-by mode without losing much charge. I hadn't turned on the screen during a week-long vacation and it only lost a little juice in that time.
The tablet's speed, memory, screen and speakers all affect the device's media performance. The Fire 7's mono speaker sounds acceptable. Most people will plug in headphones and the sound delivers enjoyable audio through a decent set of headphones.
Amazon Kindle Fire OS 5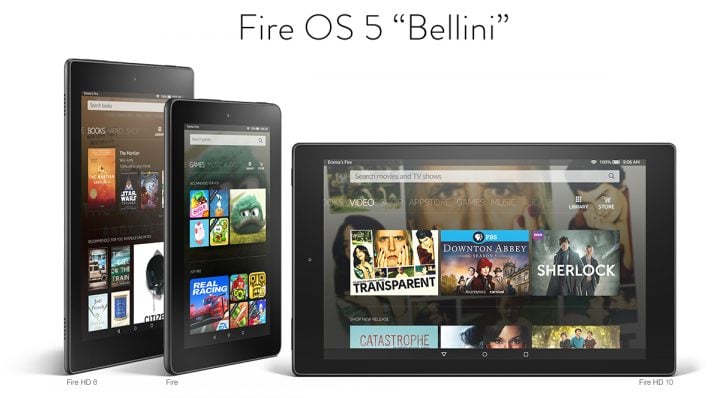 The first time a seasoned Kindle Fire tablet user will notice a drastic difference when she first turns on the tablet. The familiar Carousel gets replaced by a new tabbed interface. The new Fire OS uses a search bar at the top to make it easy to quickly find anything accessible by the tablet including…
Books
Videos
Music
TV Shows
Movies
Magazines
Newspapers
Items for sale in Amazon store
Web sites
Apps
Games
The tabs show up just below the search box and include tabs for all the content a user can enjoy on their Fire tablet. The Home button shows a row of new items available on the tablet. For example, if you install a new app and buy a new book, they will show up there. Below that we get a grid of recently used apps.
Swipe left or right to switch between the tabs/screens. We get the following screens in order from left to right:
Home
Books
Video
Games
Shop
Apps
Music
Audiobooks
Newstand
There's also an icon for your library and for the Amazon store. Open the library and tap the menu button in the top left to see categories fo the current screen. Tap the library with the above tabs open and the library will show your content. The store button takes the user to the store for that kind of content.
At the bottom we get the traditional software buttons for back, home and task switcher, much like other Android devices.
Along with the Amazon Kindle Fire you get Amazon Underground, a kind of Netflix for apps. This gives users free apps that are totally free of in-app purchases that can ruin the gaming or app experience. With Amazon Unlimited those levels or coins or extra content that the user normally pays for come free with the service.
Amazon says that users will soon be able to download music and videos if they subscribe to the $99/year Amazon Prime service. This includes unlimited video and music along with extra storage and free two-day shipping or one-day shipping for $3.99 for most products. The tablet comes with a free month of Prime to try it out.
Recommendation

Despite the budget hardware, I like the $50 Kindle Fire 7-inch tablet. It's a nice size for reading books. It feels like holding a small paper back book. It's solid and feels like it will hold up over time. For the price, I can't complain too much about the wide bezel and low resolution screen. The battery life is good, even if it's not great. And the new Fire OS 5 feels fluid and runs smoothly. Apps and content load quickly.
Here's the great thing about the $50 tablet. If you can get together with five other friends, you can buy a six-pack for the price of 5 tablets. That's about $42 per tablet.
People who like tablets but are on a strict budget will enjoy the Kindle Fire 7 so long as they don't read or consume content outside or in extremely bright light. If that is you, get a better tablet or a regular Kindle with e-ink instead of an IPS color tablet.