Kindle Fire Sale Brings Huge Discount to Amazon's Flagship Tablet
Amazon is holding a one-day sale for its premium Kindle Fire HDX tablet, where buyers can get up to $130 off when they buy the tablet today.
The Kindle Fire HDX 8.9-inch tablet is on sale for as low as $299 for the 32GB WiFi-only model. This is a whopping $130 off the normal $430 price tag.
As for the 16GB and 64GB models of the 8.9-inch Amazon tablet, the company is selling them for $319 and $419 respectively, but seeing how the 32GB version is $20 cheaper than the 16GB model, there's no reason to not get the 32GB Kindle Fire HDX.
Of course, $299 price tag is with Special Offers intact. You'll have to pay an extra $15 in order to get it without Special Offers. With Special Offers, you'll see advertisements here and there, but you certainly can't beat the price. If you can handle the occasional ad, $299 is a decent price for Amazon's flagship tablet, and it's pretty much an instant buy considering you're only paying that much dough for something that you'll get a ton of use out of if you rely heavily on Amazon's ecosystem.
The Kindle Fire HDX is still relatively new, and it comes with some impressive specs. Perhaps its most impressive feature is the 2560×1600 display that provides a crisp and sharp image with a higher pixel density than the iPad.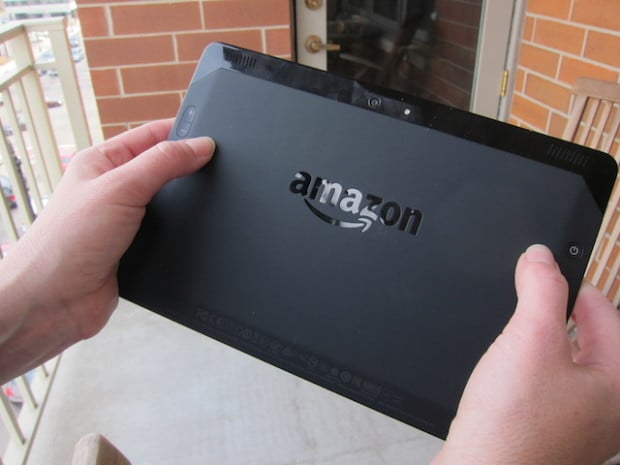 There's also the new customer service feature only on the Kindle Fire HDX called Mayday, which allows you to get on the horn with an Amazon customer service rep in under 15 seconds if you're ever having trouble navigating around your device. Mayday allows you to video chat with a representative, but they won't be able to see you. Instead, they will be able to see your Kindle Fire HDX screen and can guide you through any steps that you need taken through, or fix any problems you may be having.
Of course, this isn't the first time this year that Kindle tablets have been on sale. Amazon has provided a ton of deals already this year on its tablets, and it also discounted its tablets and ereaders several times last year in December and November for the holiday shopping season, where you could get the entry-level ereader for $49. Overall, the company has never been shy about discounting its own hardware.
In fact, just yesterday, Amazon discounted its flagship ereader, the Kindle Paperwhite, down to an impressive $99. The Kindle Paperwhite costs twice as much as Amazon's entry-level Kindle ereader, but the features are there to justify the cost a bit. The device includes a front-lit LED display, which means that the device lights up the screen from the front instead of the back like most LCD panels do. This prevents eye strain when reading at night.
Of course, some of the biggest advantages of an ereader like the Paperwhite is that the battery lasts a long time. Amazon says that a single charge on the Paperwhite can last up to eight weeks (based on a half hour of reading per day with wireless off and the light setting at ten). The same can't be said for tablets, which usually only last a day or two depending on the amount of usage.
Ereaders also don't come with any glare in bright sunlight, making them great for reading on the beach. This is thanks to the e-ink display that uses an entirely different type of screen technology than smartphones and tablets, and also uses up way less battery juice, allowing the device to last for weeks on end.
You can usually take advantage of Kindle hardware sales throughout the year, so there's almost no reason to not wait for a good deal on a Kindle tablet or ereader, and this certainly won't be the last time we see a Kindle deal this year, as Black Friday and the general holiday shopping season will be full of Kindle deals.