Kindle Fire vs. Nook Color
Yesterday's Kindle Fire announcement added heat to the tablet market, sparking speculation that it could be an "iPad Killer" not just because it costs $199 but also because it has the Amazon branding behind it. But comparing the Kindle Fire to the iPad isn't completely apropos. They're different sizes — 7 versus 9.7 inches — with different internal specs and hardware.
Read: Kindle Fire vs. Nook Tablet vs. iPad: Which is Right For Me?
The better comparison is to Barnes & Noble's Nook Color, the tablet the Fire is obviously patterned after. It's these two devices that straddle the line between tablet and eReader that will see the most direct competition. So how do they stack up against each other?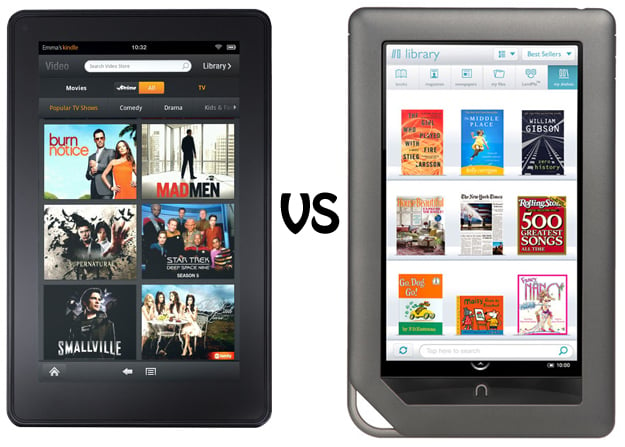 Specs
Since the Kindle Fire isn't out yet I can't do direct comparisons of performance, but there are some conclusions to draw from the hardware included in each.
| | | |
| --- | --- | --- |
| | Kindle Fire | Nook Color |
| CPU | TI OMAP 4 series (dual core) | 800Mhz TI OMAP 3621 (single core) |
| GPU | unknown | POWERVR SGX530 |
| RAM | unknown | 512MB |
| Internal Storage | 8GB | 8GB |
| Ports | micro USB | micro USB |
| Card Slot | none | micro SD |
| Operating System | Android 2.3 (Gingerbread) | Android 2.2 (Froyo) |
Since the Kindle Fire's CPU is newer and dual-core instead of single, it's likely more powerful and will offer better performance. But what would that mean on a device like this? Owners would probably only notice a difference when using performance-intensive apps (most likely games) or possibly when watching video. But when listening to music or reading a book, it's not going to make so much difference.
The spec I'm eying is that lack of expandable storage. Amazon touts the benefits of the cloud and 8GB will hold a respectable number of books, tracks and videos, but more is always better. If I could expand storage to 40GB I can carry even more media at a time and not have to think about what I should download that day or that week.
Design
Both the Kindle Fire and Nook Color have 7-inch displays (1024 x 600 resolution) and thus are about the same size. However, at 7.5 x 4.7 x 0.45 inches, the Kindle Fire is a bit smaller than the Nook Color, which measures 8.1 x 5.0 x 0.48 inches. It's also lighter: 14.6 vs. 15.6 ounces.
The Nook Color has more visual flair and a more comfortable holdability factor. The Kindle is very plain-looking by comparison. However, it's made to work comfortably in either portrait or landscape orientation where the Nook Color works best for a comfort standpoint in portrait.
Operating System and UI
As I said in my hands-on post, the Kindle Fire obviously took its cues from the Nook Color in many areas, including the user interface. Both devices run on Android (Froyo for Nook, Gingerbread for Kindle) and both cover any familiar Android trappings with their own UI.
The major advantage is ease of use — for mainstream, non techie users these devices may be easier to use and understand than your average Android tablet. It also allows them to lock down the devices somewhat. You have to know how to root them in order to sideload applications instead of buying them from the Amazon or Barnes & Noble app shops, and most people aren't going to do that.
Right now neither has a clear advantage here — the UI you prefer comes down to aesthetic preference more than features.
Media
Here the Kindle Fire has a more obvious advantage thanks to Amazon's wide breadth of media offerings. Barnes & Noble is primarily a bookstore, Amazon moved beyond that years ago.
Aside from Kindle books, the tablet will be able to play music from the Cloud Drive and access Video on Demand. Not only will users finally have a tablet to play their Amazon purchased movies and TV episodes, but they can also stream video rentals or the free offerings available to Amazon Prime members.
Of all the features the Fire offers, this is the kingmaker. After all, any Android tablet can access the Kindle and Amazon MP3 apps, but there's no app for the video content. The streaming content did work with Android browsers for a bit, but wasn't reliable. Forget about purchased media. So this is a pretty big deal.
That Whispersync now works for video content as well is a great addition — start watching on the tablet, pick it up later on your TV (via a compatible set-top box), then finish on your computer.
It is possible to put your own media on both the Nook Color and Kindle Fire, including non-DRM music and videos. However, the Nook has some limitations on the side and format of videos that stock Android doesn't. At the launch event, Amazon employees said that the Kindle would play any media formats and sizes that stock Gingerbread can play.
Plus, the Kindle's music and video players are very much in the forefront, whereas for the Nook Color these apps exist, but aren't the focus.
It's fair to say that the Kindle Fire is more of a multimedia tablet than the Nook Color, which is more of an eReader with benefits.
Apps
Amazon's App Store went live months before the Kindle Fire's official announcement and, at first, positioned itself as an alternative to the Android Market. Currently, there's a pretty vast selection of apps across all categories.
Barnes & Noble's store is specifically for the Nook Color and features a few hundred apps that fit into this device's theme of a "Reader's tablet." There are a few games and productivity apps, but the main focus is on book or reading-related apps.
The Kindle Fire again moves beyond the reading focus of the Nook Color in this department. Though it doesn't have access to apps from any Android app store or market like a normal tablet, you're more likely to find your favorite app here than on the Nook thanks to the larger selection.
Price
Today, the Nook Color costs $249 and the Kindle Fire costs $199. Barnes & Noble may bring down the price of the Nook in response to Amazon's offering, but until they do the Kindle looks like a better deal.
Conclusion
From the specs, features, and the limited demos the press saw yesterday, the Kindle Fire has an edge on the Nook Color. It's certainly one of the most exciting devices in the low-cost tablet space today.
However, I'm going to throw in a caveat. Plenty of devices look good on paper and in 5 minute demos. Remember how excited everyone was about the HP TouchPad before it actually went on sale? Look where we are with that. We'll revisit this topic again once I've had a chance to review the Kindle Fire and have some hard comparisons on the performance and usability front.
In the meantime, which one of these tablets do you fancy?

As an Amazon Associate I earn from qualifying purchases.