Kindle Fire HD v. the iPad mini
Consumers shopping for a tablet this holiday season will likely want to compare the iPad mini and the Kindle Fire HD.
The iPad mini and the Kindle Fire HD offer a more affordable tablet experience, with different strengths for different users. This guide will highlight the differences between the iPad mini and the Kindle Fire HD tablets.
Apple revealed the much-anticipated iPad mini today offering a 7.9″ display with three storage capacities starting at 16GB. Amazon launched the Kindle Fire HD early in September in 7-inch and 8.9-inch sizes. Both tablets include Wi-Fi only and versions with 4G LTE.
So let's compare the two devices so users can make a good decision as to which they should buy.
Price, Storage and Connectivity
The base model of the iPad mini costs $329. That's $130 more than Amazon's Kindle Fire HD. Apple offers three storage capacities – 16GB, 32GB and 64GB. Each step up adds $100 to the price. The Kindle Fire HD jumps in cost by only $50 when going from 16GB to 32GB. Amazon doesn't offer a 64GB model. An 8.9″ Kindle Fire HD with Wi-Fi only costs $329 and adds just $70 to step up to 32GB.
Buyers looking for an iPad mini with LTE pay an extra $130. The only way to get LTE with the Kindle Fire HD is to go with the 8.9″ model and it adds $200 to the cheapest 8.9″ Kindle HD.
Amazon will throw in a paltry 250MB of data/month for the version with LTE. It costs $49.99/year. Buyers of the iPad mini will have to pay a wireless carrier to get data on the LTE versions of the iPad mini and they'll pay monthly. The iPad mini offers more choice for data, but it will cost more.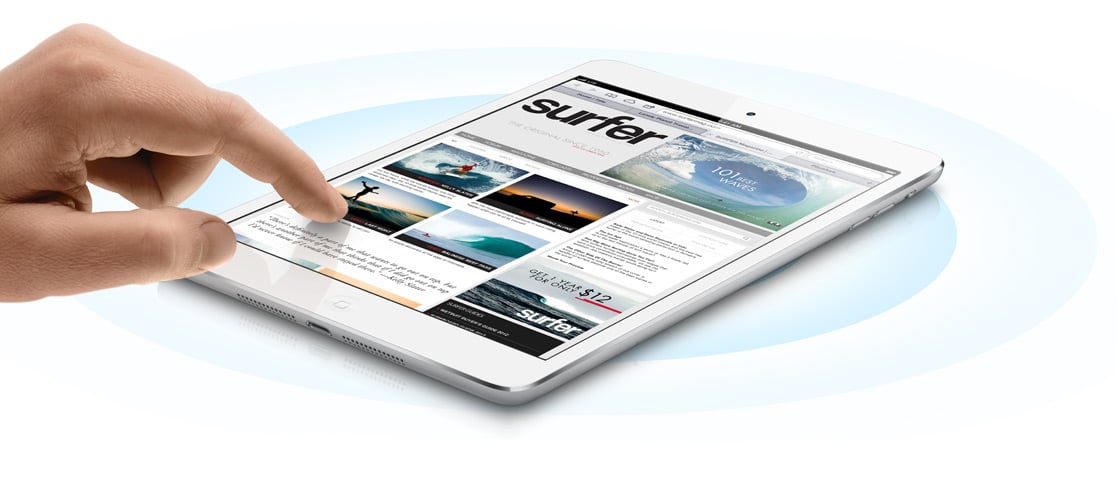 Kindle Fire HD tablets come "with special offers" meaning ads. To get rid of them, add $15 to the cost.
Here's the list of tablets ranging from the cheapest to the most expensive with the iPad mini in bold:
7″ 16GB Kindle Fire HD Wi-Fi only – $199 or $214 without ads
7″ 32GB Kindle Fire HD Wi-Fi only – $249 or $264 without ads
8.9″ 16GB Kindle Fire HD Wi-Fi only – $299 or $314 without ads
7.9″ 16GB iPad mini Wi-Fi only – $329
8.9″ 32GB Kindle Fire HD Wi-Fi only – $349 or $364 without ads
7.9″ 32GB iPad mini Wi-Fi only – $429
7.9″ 16GB iPad mini LTE – $459
8.9″ 16GB Kindle Fire HD LTE – $499 or $514 without ads
7.9″ 64GB iPad mini Wi-Fi only – $529
7.9″ 32GB iPad mini LTE – $559
8.9″ 32GB Kindle Fire HD LTE – $599 or $614 without ads
7.9″ 64GB iPad mini LTE – $659
Display
The two devices don't compare equally in screen size. The smallest Kindle Fire comes with a 7″ display, less than an inch smaller than the 7.9″ iPad mini display. Amazon also offers a Wi-Fi version with an 8.9″ display and a LTE version with 8.9″ display.
The 7″ Kindle Fire HD resolution measures 1280×800. The 8.9″ display comes with 1920×1200 resolution. The iPad mini ships with only 1024×768 resolution making it slightly lower res than the smaller Fire and much lower than Kindle Fire HD 8.9-inch model.
Gaming and Video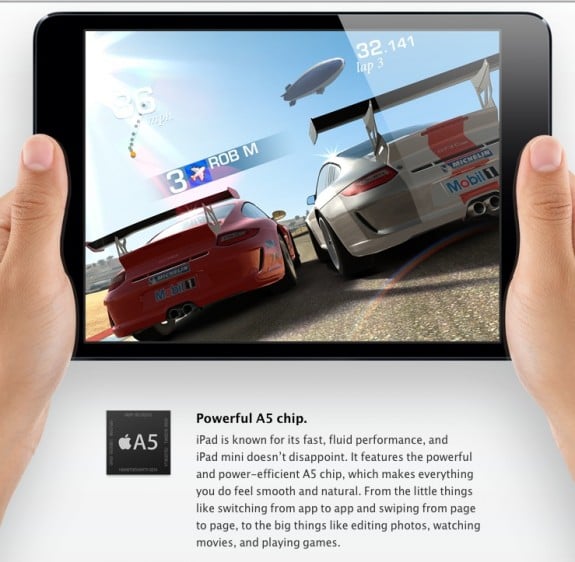 Gamers will likely enjoy the new iPad mini with the dual-core Apple A5 processor. It's not as fast as the A6 chip in the iPhone 5 or A6X in the 4th Generation iPad. However, smaller Kindle Fire HD comes with a dual-core 1.2GHz OMAP4460 processor. The 8.9″ model bumps that up to a 1.5GHz. All of that means the iPad's processor will likely outperform the Fire, but we'll have to wait and see how comparable the real world experience is. The bigger issue for gamers is that gams typically arrive for the iPhone and iPad before Android, and the Amazon App Store release may arrive even later.
Media and Apps to Download
The Apple app store offers iOS apps with over 750,000 to choose from. Developers designed 275,000 of them with the 10″ iPad in mind. Because the iPad mini display is at the same resolution as the iPad 2, these apps should work on the iPad mini on launch day.
The Kindle Fire offers apps through the Amazon App Store, which comes with most of the apps that people will want. The Fire runs Amazon's heavily skinned version of Android. The huge collection of Android apps will work on the device, but the app makers must submit them to the Amazon apps store.
Based on experience Amazon App Store updates come later than apps in the regular Google Play Store. The Kindle can't run apps from the Google Play Store because Amazon doesn't include it. Users can hack their Kindle Fire HD to make them work, but only advanced users should plan to root their device.
There's a growing number of videos and TV shows available through Amazon's Instant Watch streaming service. To watch them for free a user must subscribe to Amazon Prime, a service the gives access to the Instant Watch collection and free shipping on products bought on Amazon's website.
The Amazon Book collection far outpaces the books available in iBooks, Apple's books store. The Kindle iPad app works just as well as iBooks on the iPad so iPad owners get the best of both worlds. Also, both companies offer magazines, but neither of them really look great. Amazon lets users with a Prime account borrow a book a month from a select list of books.
Amazon owns Audible, an audio book service. Now the Kindle will play audio books and sync the place where a user leaves off so they can listen on other devices like their smartphone using something called Whispersync. If the person owns the text-based book from Amazon, it can sync as well. I can listen to a chapter in my car. Stop it. Then pick up my Kindle at home and pick up reading where the audiobook left off. Apple doesn't offer anything like this.
See the video where Amazon introduced the feature.
https://youtu.be/aBmTtj-uzLQ
Apple's iTunes Music service lets users buy and download songs and albums. Amazon Music often sells songs a little cheaper. They each offer a cloud storage service so a user doesn't need to download and store all their music on their tablet.