Kindle Oasis: 5 Things to Know About Amazon's New Kindle
Amazon's new Kindle, the Kindle Oasis is the company's most daring Kindle yet. With an all-new design and a strange new cover, here's what you need to know.
This week, after a few leaks on the organization's various international sites, Amazon announced a new Kindle. Unlike the previous generations, this model isn't an iterative device, created by making the last year's Kindle just a little bit better.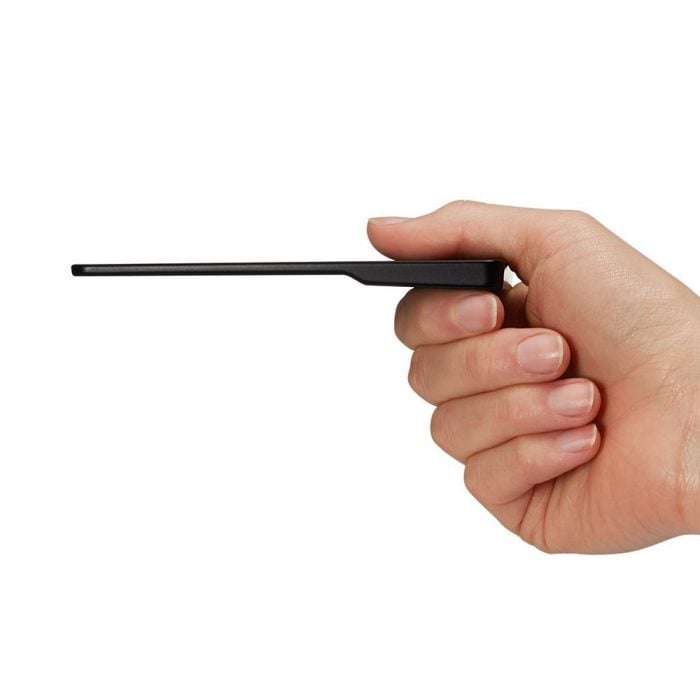 No, the Kindle Oasis features a wildly different design. most notably, the new Kindle is much thinner than previous editions, with a taper across the rear of the device; the thinnest part measures just 3.3mm thick, or less than half the thickness of a new iPhone. The battery is stuffed into the right side of the Kindle, creating a hump that makes the device easier to hold.
Kindle Oasis: Price
Perhaps the most important question to ask about the new Kindle Oasis is: how much does it cost. In this respect, the Oasis has much more in common with the Kindles of old than it does with today's affordable models. Amazon is pricing it at $310 for the base model. An optional 3G model is available for an additional $70 more.
In Canada, you can expect to pay $399 for the Kindle Oasis with Wi-Fi, and $499 for the Oasis with both Wi-Fi and 3G. In the U.S., you can save $20 off of the high price by accepting Amazon's "Special Offers" functionality, which puts ads onto your device's lock screen and a few other areas.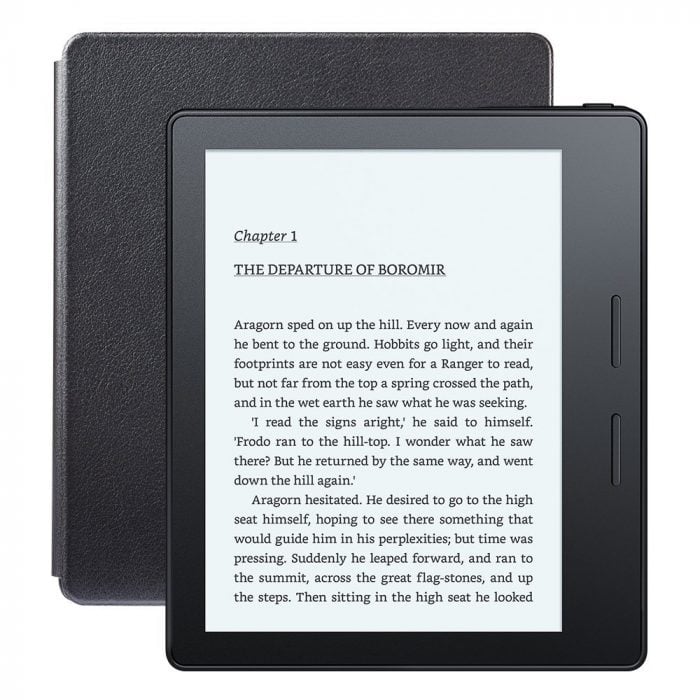 The Special Offers sound like a frustrating experience, but on the e-ink Kindles, they're really not so bad – if you're an Amazon fan, you may actually like the functionality, since Amazon often extends some pretty attractive deals to those who agree to its advertising.
Kindle Oasis: Release Date
You can pre-order the new Kindle starting today. Amazon isn't officially releasing the new models until April 27th, which is two weeks from now. If you pre-order either the Wi-Fi or 3G models right now, your device should ship by the 27th (Amazon hasn't said whether they'll ship earlier so that you get your Kindle on the 27th).
The company is expecting high demand, however, and is already tempering delivery expectations. On the Oasis page, Amazon notes that, "Due to popular demand, some configurations will ship after April 27th," noting that you'll get a revised shipping estimate on the checkout page. If you decide to pre-order, make sure you check to see when your Kindle will arrive.
Kindle Oasis: Features
The new Kindle is such a drastic departure from the current models, it's hard to decide which of its features are the most noteworthy. We mentioned earlier that this is the thinnest Kindle yet, a fact that Amazon is really pushing. That's mostly true; it's the thinnest Kindle in the same way that Apple's MacBook Air was the thinnest laptop for a while – parts of the device are a normal thickness, and parts are very thin.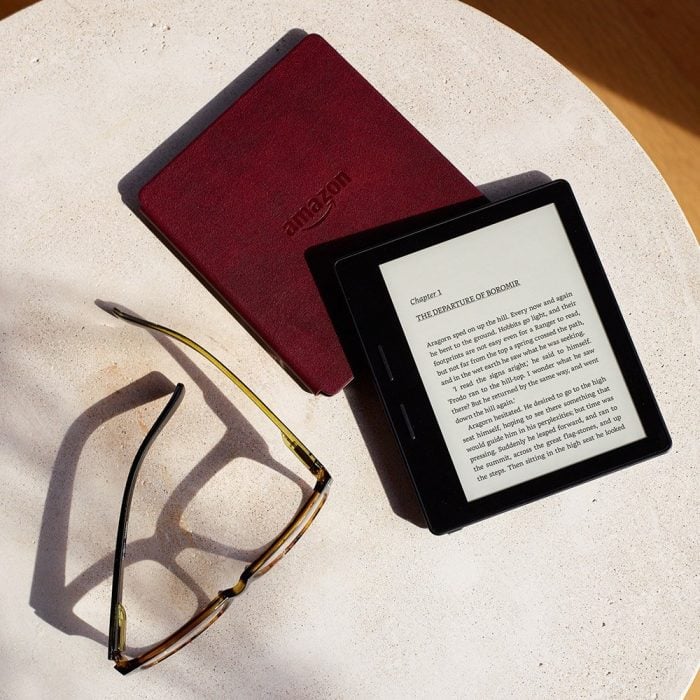 Inside, the Oasis' display is powered by an e-ink display that's very likely the same models inside of Amazon's Paperwhite and Voyage Kindle models. That means you'll get a 1440 x 1080 display, with an average pixel density of 300ppi; the Oasis should look nearly as sharp as any modern, high-end smartphone.
One way the screen is different is when it comes to the frontlighting system. Base Kindles have no built-in lights; the Kindle Paperwhite features four LEDs, the Kindle Voyage features 6 with a light sensor, and the new Oasis has 10 LEDs, which should make the lighting much more consistent than in prior years, which featured models with patchy spots in the light.
This new e-reader features a touchscreen for navigation, like Kindles have had for years, but it also brings back another old idea: page turn buttons. That's probably a result of this Kindle's design – instead of being centered across the face of the unit, it features a noticeable shift to the left. Southpaws won't have to worry, however, as there's an accelerometer inside that will flip the display so that you can use it in your left hand, too.
Battery life is hard to nail down for the Oasis, thanks to Amazon's inclusion of a proprietary, external battery. When used in conjunction with both batteries, the new Kindle purports to deliver a battery life of "months", which is a noticeable upgrade over prior Kindles' "weeks" of battery. Amazon is promising, however, that you'll be able to fully charge the Kindle in just three hours, which is a nice touch in comparison to some mobile devices (looking at you, iPad Pro).
Kindle Oasis: Accessories
You probably perked up at the mention of an external battery case, and it's true – Amazon is included one of these stylish leather cases in the box along with every Kindle Oasis. That's probably one of the reasons why the starting price point of the new model is so much higher than for previous devices.
You'll be able to purchase the Kindle with your choice of either Black, Merlot (a wine red color), or Walnut shades of leather (Canadians get black only); if previous cases are any indication, you can expect Amazon to do a really nice job on how the case feels.
Twelve magnets are built into the cover, making it very secure – this Kindle isn't going to pop out of its case – while giving you the ability to easily remove it if you want to use a lighter Kindle around the house. Much like the iPad, when the case attached to the device, you can wake up and put your Kindle to sleep just by opening and shutting the cover.
This new battery cover doesn't seem to be able to charge on its own, meaning you'll need to put it on the Kindle and plug that in, at which point both batteries will be charged. Having said that, you shouldn't need to charge either battery very often; in addition to the 20 months of standby battery life that Amazon is estimating, a new hibernation mode will drop your battery use even more when you aren't reading.
In the box, all you'll get is the Kindle, battery cover, and a USB 2.0 charging cable. Amazon suggests picking up an overpriced, $20 USB charger when you check out, but you can use any of the chargers you got with your iPhone, iPad, or Android device – or just charge it on your computer.
Kindle Oasis vs Kindle Paperwhite vs Kindle Voyage
With the introduction of the new Kindle Oasis, Amazon now has Kindles available at a range of price points. You can pick up the base model, which still gets you weeks of battery life, for just $100, the Kindle Paperwhite costs $140, the Kindle Voyage costs $220, and the Oasis is $310 (Amazon lists the default price as including Special Offers, which drops the price by $20 on each model).
Kindle
Kindle Paperwhite
Kindle Voyage
Kindle Oasis
Price
$100
$140
$220
$310
Page turning
Touchscreen
Touch + PagePress
Touch + Buttons
Screen size
6 inches
Resolution
800 x 600
1440 x 1080
Pixel density
167 ppi
300 ppi
Battery life
Up to 4 weeks
Up to 6 weeks
Up to 8 weeks
Wireless
Wi-Fi
Wi-Fi or Wi-Fi + 3G
Weight
191g
205g (3G: 217g)
180g (3G: 188g)
131g (3G: 133g)
Dimensions
169 x 119 x 10.2 mm
169 x 117 x 9.1 mm
162 x 115 x 7.6 mm
143 x 122 x 3.4 – 8.5mm
Storage
4GB with unlimited online storage for Amazon-purchased books
Note: the weight in the above table doesn't include the Kindle Oasis battery cover: that adds an extra 107g, making the weight of the Oasis plus cover a whopping 240g, or the heaviest Kindle in the lineup. Battery life is estimated with a daily reading time of 30 minutes; depending on how often you use the backlight or wireless access, your battery life might be lower.