Kindle Paperwhite Refresh Leaked by Amazon, Immediately Pulled
It looks like a Kindle Paperwhite reboot is in the works, as a webpage about the new device was prematurely published on Amazon's website before getting frantically taken down, but not before screenshots were taken. The leaked info reveals some of the new features coming to the second-generation Paperwhite, including new display technology and a release date of September 30.
Both a feature page and a sale listing were posted on Amazon's website of the device named as the "All-New Kindle Paperwhite," with a price as low as $119 with Special Offers included. So what's new with this Paperwhite refresh? The new display technology isn't heavily detailed, but Amazon says that the device will have higher contrast, meaning that the black colors on the screen will be blacker and the whites will be whiter. Amazon also touts "better reflectability" with the new display — whatever that means.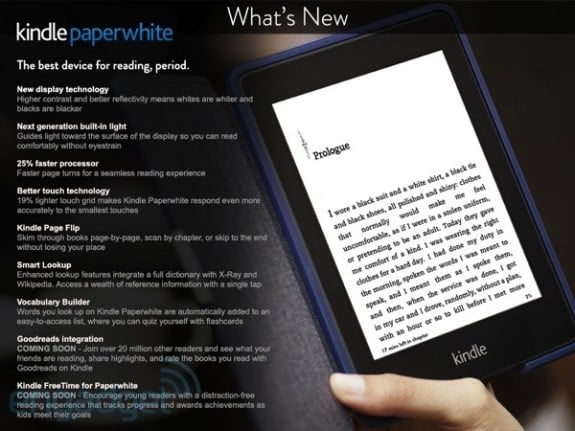 On top of the better display is better light technology, which aims to "guide light toward the surface of the display" to lower eyestrain, and there's also better touch technology built in that focuses on detecting lighter touches this time around.
As for internal specs, Amazon didn't put a lot of focus on them, but it did say that the new Paperwhite will come with a 25% faster processor. There are also a handful of new software features that will be included with the new device, including "Smart Lookup" with Wikipedia and Amazon's X-Ray integration, "Vocabulary Builder" that auto-adds words to a bank for future reference and Goodreads integration, which is the first time we're seeing Amazon do something with their recent acquisition of the company.
Read: Amazon Explains The Tech of the Kindle Paperwhite (Video)
Finally, the new Paperwhite will come with something called FreeTime, which will provide younger readers with a reward system that tracks reading progress and gives awards and achievements for finishing books. Both Goodreads integration and FreeTime are listed as "coming soon," which may mean that the features may not arrive with the new Paperwhite at launch.
Surprisingly, the sale listing is still up as of this writing, with the ability to pre-order the device now and a ship date of September 30. We're not sure when Amazon will officially announce the new Paperwhite, seeing as how we haven't heard anything from them on the matter, but it should just be a matter of time before we do.
UPDATE: Amazon has made it official, confirming that all of the leaked info is correct.

This article may contain affiliate links. Click here for more details.