Kindle Sold Over 1 Million Per Week for 3 Weeks
During the past three weeks Amazon sold over 1 Million Kindles per week. While some places online have reported that Amazon sold a million Kindle Fires, Amazon actually includes all of the various new models in that figure. While Amazon stated that the Fire was the top seller on the company's website during that period, the company wasn't explicit about how many of each of the three models they sold, choosing instead to lump all of them together. That's understandable. "Over one Million" sounds better than 250 thousand plus 300 thousand plus 500 thousand.
Amazon won't release specific numbers. They only said in a press release that the "Kindle Fire is the most successful product we've ever launched – it's the bestselling product across all Amazon for 11 straight weeks" and that they've already "sold millions of units." They have millions in the pipeline to meet future demand.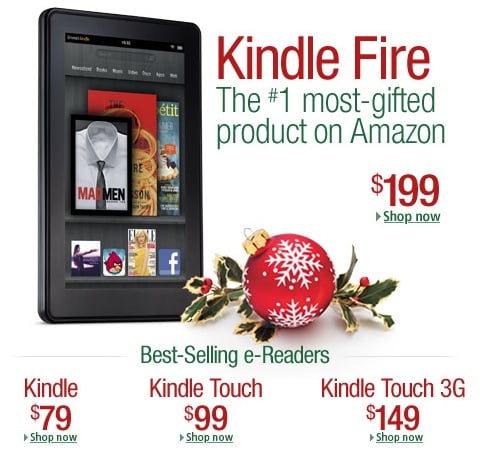 Amazon timed the release well: with it going on sale for pre-orders just before the busy holiday shopping season and during a time when not a lot of attention has been taken away by other hot tablet products (Barnes & Noble did release their new Nook Tablet, but it was only a refresh and not as highly anticipated a product).
The prices for each of the three models puts them close to the impulse-buy level. I can see a person dropping into their local Best Buy or Staples and, on the spot, deciding to pick one up even if they didn't plan to purchase one prior to entering the store. At $199 it would be hard for the average person to not choose a Fire over the large collection of Android tablets and even the iPad.
The Kindle name exudes a strong branding among consumers, from my experience. I've met people who own a Nook or a Sony reader and still call them their "Kindle," much like all tissues are "Kleenex" and in the South all soft drinks are "Cokes."

As an Amazon Associate I earn from qualifying purchases.