Kindle Touch vs Nook Simple Touch With GlowLight
Taking each of these eReaders' features and functionality into consideration, which one is best? It depends on what you need and how you read. Read our in-depth comparison between the Amazon Kindle Touch and the Barnes & Noble Nook Simple Touch with GlowLight to help you decide which one you should buy.
The new Nook Simple Touch includes a fancy built-in booklight dubbed GlowLight by Barnes & Noble. This feature will no doubt attract many eBook lovers who want the ability to read in bright light and in the dark of night. Plus, the Nook's great design and eReading experience make it an attractive choice.
However, the eReader to beat is still Amazon's Kindle. And their 4th generation model Kindle Touch shares many of the Nook's features: simple interface, responsive touchscreen, fast page turns. But no built-in light.
Taking each of these eReaders' features and functionality into consideration, which one is best? It depends on what you need and how you read.
Nook Touch With GlowLight Review | Amazon Kindle Touch Review
Yes, the GlowLight will seal the deal for some. But what if you're a big note taker or want to borrow digital books from the local library? Read our in-depth comparison between the Amazon Kindle Touch and the Barnes & Noble Nook Simple Touch with GlowLight to help you decide which one you should buy.
Price
At first glance it may look as though the Kindle Touch is less than the Nook with GlowLight, but the $99 price is for the Kindle with Special Offers. Special Offers are advertisements pushed to the Kindle from Amazon. They appear as screensavers when the Kindle is asleep.
Many Kindle owners don't mind these ads and either ignore them or accept some of the offers, which include local deals. Others feel that advertisements have no place in the reading experience. To get rid of them, you either have to buy the Kindle Touch without Special Offers, which brings the price up to $139, or pay the extra $40 later to turn the ads off.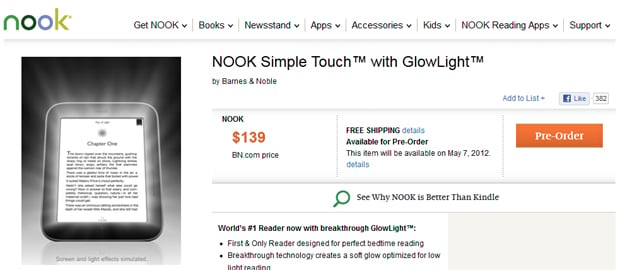 The Nook Simple Touch with GlowLight is $139 and has no ads or any similar program.
If the $40 difference is an issue, the Nook without GlowLight is still only $99 (again, no ads).
Design
Both the Kindle Touch and Nook with GlowLight have simple designs meant to make them easy to understand and use. Each has minimal buttons, a small footprint and a very light weight for comfortable one-handed reading and easy pocketability.
The Nook is slightly thicker and taller (6.5 x 5.0 x 0.47 inches) owing to the curved and contoured back; the Kindle Touch is taller (6.8 x 4.7 x 0.4 inches) and a bit thinner since it has no physical page turn buttons.
Even though both devices have touch technology, I like that the Nook includes the hardware buttons in addition to letting users tap or swipe to turn pages. This offers people more choice in how to use their device and satisfies those of use who want or need tactile feedback in this interaction.
Aesthetically, the Nook with GlowLight wins out for most attractive design. The black, soft-touch coating that covers the back and front not only makes holding it comfortable, it also looks great. Plus, the soft-touch makes the Nook grippier, so I don't feel like I'm going to drop it, even on a jangly train ride.
The rounded corners and contoured back are a nice touch. And the n button beneath the display is both functional and classy.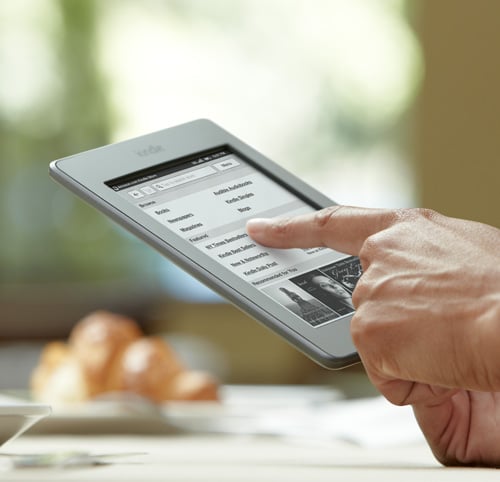 In comparison, the Kindle Touch's look is dated. The silver color and overall design put me in mind of Sony eReaders, but not in a good way. The Home button beneath the display works just fine, but doesn't signify anything with its design.
Display
The Nook has a major advantage here in the GlowLight, a feature not currently offered by the Kindle Touch. The GlowLight illuminates the Nook's display with a soft white/blue light that isn't as harsh as the light from a tablet or smartphone, yet is bright enough for reading in dim or dark rooms. The Nook can go from bright sunlight to a a lampless bedroom , whereas with the Kindle you'll need to buy an extra booklight or turn on an external light source.
Still, the Kindle has an advantage, too. The anti-glare coating on the Nook with GlowLight diminishes the contrast on the display. Not a great deal, but enough to be noticeable. The Kindle Touch's eInk screen features dark, crisp text and images that stand out from the background. (The Kindle and non-GlowLight Nook are on a par with each other in this department.)
Otherwise, the two 6-inch ePaper displays are pretty similar. Both are 600 x 800 with 16 levels of grayscale and feature the best refresh rates available.
Due to the low power required for such displays, the Nook and Kindle can each last for up to 2 months with the Wi-Fi turned off. Using the GlowLight cuts the Nook to 1 month on a charge.
Reading Experience
Thanks to simple, easy to understand interfaces and fast processors, both the Kindle Touch and Nook with GlowLight offer good reading experiences. Getting to the eBook you want to read is a straightforward process. Inside books, page turns happen fast with little or no flashing to distract you from what's important: the words on the page.
As I said earlier, I prefer the Nook's approach to page turn choices — hardware buttons plus either tapping or swiping across the display itself. However, when paging forward with the left hand your choices narrow. You can either use the clicky button or try to swipe with the left thumb, which doesn't always work. Tapping the left edge of the screen only pages back.
Amazon came up with a clever solution to this problem with EasyReach. This changes the touch zones on the Kindle Touch's screen so that the area where one can tap to Page Forward is much wider and easy to reach with the left thumb. This makes up for the lack of hardware buttons somewhat.
Inside books, both eReaders offer multiple font size, font face, and page style choices. The Nook has six fonts to choose from, the Kindle has three (and only one worth using). Readers have ample choice when it comes to text size, but only on the Kindle Touch can users pinch to change the size.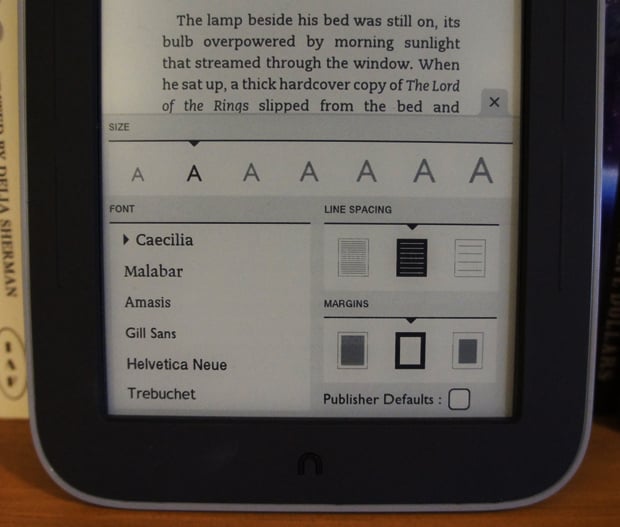 eBook Selection and Availability
Barnes & Noble and Amazon can both boast a catalog of over a million books for their respective eReaders. However, thousands of those titles are free public domain eBooks. Neither company cares to separate out the number of modern books from the classics. However, Amazon has been selling eBooks for longer than Barnes & Noble, thus has a larger library of books published in the past decade.
If you're looking for new titles and bestsellers the two stores have similar offerings. There are some books exclusive to Amazon, such as the Kindle Singles, books from Amazon's imprint and select releases. The majority of major books will be available for both Nook and Kindle.
Library lending is available for both as well. Local libraries that employ the Overdrive system for digital lending have books that will work on either eReader. However, getting the books onto the Kindle Touch is far easier than the Nook with GlowLight.
Once you connect your Kindle account to the library's Overdrive system, loaned books transmit wirelessly to your Kindle and have all the benefits of regular Kindle books, including syncing, notes and highlights.
Transferring library books to the Nook requires the use of Adobe's Digital Editions software and a PC or Mac. And the books won't sync to other Nook devices or apps.
Nook owners can wirelessly sync books borrowed via the LendMe program. With this, owners can borrow books from friends or people connected to them via the NookFriends social network. If your friends have the option turned on, you can also browse their library and choose a book to borrow.
Amazon now has a similar lending service with similar restrictions: users can only lend out a book once and only for 14 days. In addition, Amazon Prime members also have access to a free lending library.
The same program that facilitates library loans on the Nook also allows users to transfer ePub eBooks from other stores to the Nook. If you already purchased books from Sony, Kobo, Google Books or other stores that utilize Adobe's DRM, you can load them on the Nook without breaking the DRM. There are also several stores that sell Nook-compatible eBooks beyond Barnes & Noble.
Wireless Connectivity
The $139 Kindle Touch and Nook with GlowLight have wireless b/g/n radios for connecting to the Internet and their respective eBookstores. AT&T offers free connectivity to the carriers vast network of Wi-Fi hotspots to both devices.
Unlike the very first Nook from Barnes & Noble, the Nook with GlowLight doesn't have a 3G version for connecting anywhere. Amazon continues to offer both a Wi-Fi and 3G version of the Kindle.
The Kindle Touch 3G costs $149 with ads and $189 without. There are no monthly fees — the 3G service is free to use for the lifetime of the product. Having 3G is useful for impulse purchases and times when you want to download books even if you're not near a wireless hotspot, such as in the car. It's also useful when you need to use the Kindle as a backup Internet device (more on that below).
Notes, Highlights and Syncing
Both devices allow readers to add notes and highlights to the books they read and to easily browse them later. However, even without a physical keyboard, the Kindle Touch is superior when it comes to this feature.
That's because the Kindle does a better job of allowing owners to access notes and highlights on other devices, including their computers, and has an export feature. This makes the Kindle more useful for people who keep extensive notes and need to access them, such as students or users who read for professional purposes.
Kindle notes and highlights sync from Kindle to Kindle as well as to the apps for iOS and Android. On a computer you can access notes via the web browser by logging into your My Kindle account or via the Kindle for PC and Kindle for Mac programs. It's possible to export the My Clippings file to get at the text of notes and highlights from the Kindle Touch itself. Or just go to "Your Highlights" on kindle.amazon.com.
Notes and highlights on the Nook with GlowLight might as well be locked in a deep, dark cave, they're so inaccessible. Users can't export them from the device, and notes and highlights don't sync to all Nook programs. They will sync between Nook with GlowLight and Nook Tablet or Nook Color, but not Nook for PC where they'd be most useful. Nook for Mac beta says syncing is possible, but it's not reliable.
Syncing in general is less reliable than the Kindle Touch. Both eReaders will sync the last page read so you can pick up reading on your smartphone app where you left off on the ePaper device. With the Kindle Touch, this process always works and is always accurate. With the Nook, the sync sometimes works, but the last page read might be several pages behind where I left off.
Documents, Files and Email
Another area where the Kindle Touch is a better choice for those who want or need to do more than just read eBooks is with documents. The Nook with GlowLight can only read one document format: PDF. The Kindle can read PDF, text files and Word documents (.doc and .docx).
While most people won't use the Kindle Touch as a replacement for a tablet or computer for doing serious work or adding many notes, the ability to read documents on an eInk screen is valuable to those who spend a lot of time doing it. Since each Kindle has its own email address, owners don't even need to connect to a computer to load the files.
The ability to email files to the Kindle Touch also facilitates other nice extras, such as getting posts and web pages saved on Instapaper or Readability sent automatically to the device.
Currently, the Nook with GlowLight doesn't have a similar feature.
Audio
While the ability to play audiobooks doesn't seem like a sought-after feature for eInk eReaders, Amazon still includes it in the Kindle Touch. Also included in Amazon's Read-To-Me feature, which reads the text of supported books in a computer voice.
The Nook with GlowLight doesn't have either of these features.
The Bottom Line
From a pure reading experience standpoint, the Nook Simple Touch with GlowLight has a big advantage with the built-in booklight. It lights up the display better than an external light and is less disruptive to your bed partner than a lamp. Anyone who has has wished for an eReader that works as well as a tablet in dim light will want the GlowLight.
Still, the Kindle Touch's display has deeper contrast. And for people who do more than just read books, the better note and highlight functionality is a big deal. The Kindle also includes more little extras that build up into a robust feature set.
If you want an eReader that's more focused on the reading aspect of the experience, the Nook Simple Touch with GlowLight is a great choice. If you need to do more with books beyond reading, the Kindle Touch will serve you better, even without the built-in light.

As an Amazon Associate I earn from qualifying purchases.