Kingdom Rush for iPad Review
Kingdom Rush for iPad is a tower defense that is worth way more than its $.99 price tag. It delivers countless hours of entertainment in an extremely well done package that will delight both fans of the genre and casual gamers alike.
The game is a game by Armor Games and while it doesn't do much to advance the tower defense genre of games, it's one of the best tower defense games available on the App Store.
If you've played a tower defense game before, then you know what you're getting into with Kingdom Rush. You set up towers. You upgrade said towers. And you try not to let bad guys through a pre-determined path.
However, Kingdom Rush offers a couple of different elements that make it better than the average tower defense game.
Gameplay
Like any tower defense game, you'll be tasked with selecting different types of towers and then placing those towers in strategic places to prevent enemies like goblins, worgs, and bosses from making it past your defenses.
Kingdom Rush only offers four different towers including the "Barracks" which is a little different from your normal tower. The Barracks trains troops that are then put into the path of the oncoming enemies, slowing them down so that your other towers can rain down arrows, arcane magic and fireballs upon foes.
All four tower types can be upgraded and each has a talent tree where special abilities can be added. Players will have to choose wisely as the game only gives you a few stars to spend at a time.
Once you're in the game, Kingdom Rush shows you strategic places to place towers. This is different from your normal tower defense game where you can place towers almost anywhere along the path.
Instead, here, you only have to choose where its best to place an arrow tower or a Barracks for instance. It's not as easy as it sounds and I often found myself selling towers to replace them.
The game also includes heroes that can be purchased to help in your fight. Each hero has its own special abilities and is extremely useful when facing hordes of enemies.
Kingdom Rush also grants you to special abilities. The first allows you to send for townsfolk and place them wherever they are needed. The cool down is fairly quick so you'll be using this quite a bit. And yes, they can be upgraded.
You can also drop fireballs down on enemies when you're in a tough spot although the cool down on this is much slower.
The game took me many hours to beat as I trudged across the gigantic map and by the end, I was ready to do it all over again. That's how addictive this game is.
Performance
Kingdom Rush is a beautiful looking tower defense game, especially on the new iPad because it offers Retina Display support. From the actual levels, to the detail shown to each enemy, bosses in particular, it's pretty spectacular to look at. Especially when there is a ton going on.
The third-generation iPad handles it all extremely well and I've yet to experience any sort of a slow down, even when I had towers firing on a seemingly endless wave of demons and goblins.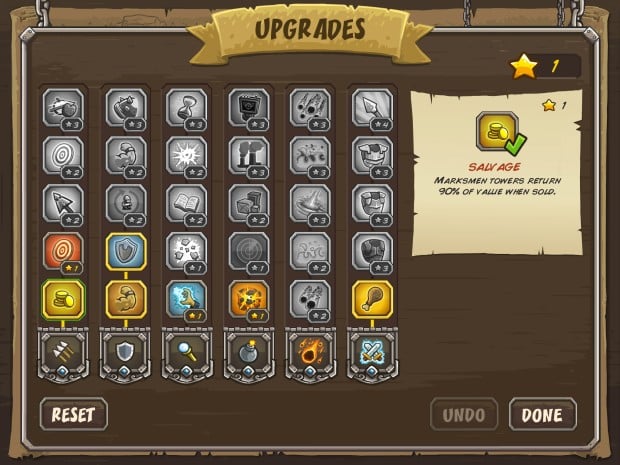 All of the menus are intuitive and the game even offers a handy encyclopedia that offers information on all the towers and enemies. I often found myself looking at the enemy list prior to my battles in an effort to better plan my strategy.
The music is also pretty well done although it's nothing to write home about.
Should You Buy It?
In a word: absolutely. This is easily one of the best tower defense games that I've ever played and it's up there with some of the best iPad apps that I have ever owned. I seriously have gotten hours upon hours of entertainment out of Kingdom Rush and I haven't slowed down.
At $.99, which is a limited time offer, this is a must-have game on the iPad and it's a purchase that you won't regret.
Just don't get mad at me when you can't put the game down.