Kingston Announces "World's Largest-Capacity" 1TB USB 3.0 Flash Drive
Today at CES Kingston unveiled what it claims is the "world's largest-capacity" USB 3.0 flash drive that comes with up to 1TB of storage space.
The new flash drive, called the Kingston DataTraveler HyperX Predator 3.0, comes in capacities of either 512GB or 1TB. The 512GB model is currently available, and Kingston expects to ship the 1TB model in the first quarter of 2013. The release will make the drive one of the first terabyte flash drives available on the market.
Kingston says the new DT HyperX Predator 3.0 is the company's fastest USB 3.0 flash drive yet. The drive boasts read speeds of 240MB/s and write speeds of 160MB/s, which is faster than the typical USB 2.0 flash drive, but still slower than most hard drives, including SSD drives.
Like all other USB 3.0 flash drives, the DT HyperX Predator 3.0 is also compatible with USB 2.0 ports in older computers. The read/write speeds aren't as fast when used over USB 2.0, however.
According to Kingston the fast read/write speeds users can watch and edit HD videos straight from the flash drive without transferring the files to the computer's hard drive.
For many users, especially those who use a laptop of Ultrabook as a main computer, the DataTraveler HyperX Predator 3.0 is likely larger than their local hard drives. That makes it a great option for storing large files that users need often, but not everyday.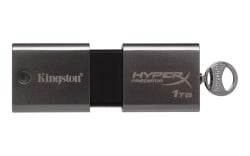 The Kingston DataTraveler HyperX Predator 3.0 isn't an ideal replacement for a larger local drive, but for travelers who want a light weight way to carry almost every file they could ever need, it's an ideal device.
There is no price given for the 1TB DataTraveler HyperX Predator 3.0, though Kingston lists the 512GB model of the flash drive for $1337. The 1TB drive will likely cost even more, assuming the price isn't just a place holder number.