Kno Tablet Will Ship in December at $599 or $899 Depending on How Many Screens You Want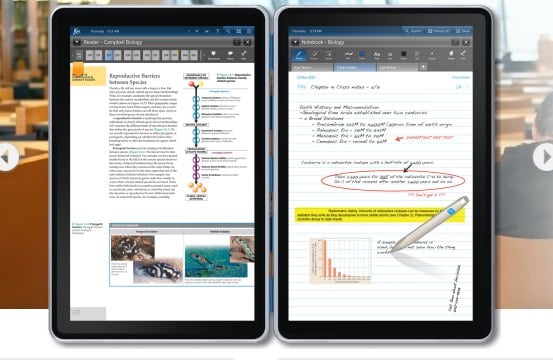 The Kno Tablet is quickly becoming famous for all the pictures of its dual screens. Aimed squarely at the educational market, Kno is announcing that the Tablet will ship by the end of December in limited quantities for those who pre-order beginning today. Don't go running to hit that pre-order switch just yet though, because you have to be enrolled at one of ten unnamed colleges to take advantage of the get in early wave. That said, there are two prices. $599 for a single display model and $899 for the famous dual screen version.
While the prices seem a tad high for the Tablet/Slate market, keep in mind that this is geared towards the higher education market. Kno is touting that the reduced cost of college textbooks will more than pay for the Kno in three semesters saving approximately $1300.
Press Release follows:
Kno Announces Pricing and Pre-Order Availability for
Tablet Textbook; Pays for Itself in 3 Semesters
Delivers Significant Student Impact for Less than 1% the Cost of a
4-Year College Education
Santa Clara, CA – November 9, 2010 – Kno, Inc., a powerful, groundbreaking tablet textbook designed specifically for students and the education market, today revealed the price of its 14.1 inch single and dual-screen tablets at $599 and $899, respectively.  The company also announced that it is now accepting a limited number of pre-orders for an initial shipment that is expected to be on customers' doorsteps by the end of the year.
"Kno's extraordinary benefits represent only a tiny fraction of the overall cost of college, but its impact on the student's career – and the energy it adds to the experience, the thrill of learning, and the ultimate grade – is dramatic," said Osman Rashid, Co-Founder and CEO of Kno, Inc.  "Even better, when you do the math, it actually pays for itself and still saves $1,300 in digital textbook costs."
Kno has been beta-testing the product with students and the response has been overwhelmingly positive for both the single and dual screen devices. Far more than just a digital textbook, Kno is creating a powerfully effective new learning environment that will make students at all levels more successful at processing, grasping and retaining both facts and concepts.
"My experience with Kno has been really incredible.  My books have become more interactive and the ability to hand-write electronic notes on the book pages themselves has changed how I retain information," said Melissa Lin, a sophomore majoring in Biology at UC Berkeley that has been beta-testing the Kno tablet.  "I see a ton of difference with the Kno.  I can carry everything with me including my books, my notebooks and a browser for research.  And, with the lower cost of digital textbooks, it will pay for itself in three semesters which is really great."
Digital textbooks, which typically cost between 30 and 50 percent less than physical textbooks, will be priced separately and will be sold through the Kno bookstore, which will be accessible on every Kno device.    Starting today, students will be able to browse Kno's bookstore at www.kno.com/store/books, which will include tens of thousands of the most popular textbooks and supplement materials. Kno has previously announced that it is working with major textbook publishers including Cengage, McGraw Hill and Pearson. The company recently added publishers including Macmillan, Bedford, Freeman & Worth and Holtzbrinck as well as BarCharts Publishing, Kaplan, Random House and a large number of the University Presses.
"According to the not-for-profit College Board's 2010 report, the average college student spends approximately $1,100 a year on book and supplies, " said Babur Habib, CTO and Co-Founder of Kno, Inc. "Kno can reduce that cost while bringing education into the 21st Century, providing students with a far superior learning experience than they have today."
To learn more about Kno, please visit the Kno blog at https://blog.kno.com or visit us on Facebook  www.facebook.com/GoodtoKNO, Twitter www.twitter.com/GoodtoKNO and YouTube www.youtube.com/GoodtoKNO.
About Kno, Inc.
Kno, Inc. is fundamentally changing the way students learn, by offering new ways to digitally consume, organize, create and share knowledge.  Kno is a transformative tablet textbook that artfully blends the intuitive experience of the conventional textbook with a rich digital world of video, note taking, collaboration and more.  Its open platform encourages publishers and developers to create and distribute innovative education applications and content.  Osman Rashid, the co-founder of Chegg, and Babur Habib, a consumer electronics veteran, founded Kno, Inc. in May 2009.  Kno has a world-class management team from Apple, Cisco, HP, Intel, TiVo, Chegg and Palm.  The company has received funding from Andreessen Horowitz, First Round Capital, Floodgate, Ron Conway, Silicon Valley Bank and TriplePoint Capital and is based in Santa Clara, California. For more information go to www.kno.com.

As an Amazon Associate I earn from qualifying purchases.