Kobo Invites Readers to Touch Books With New Reader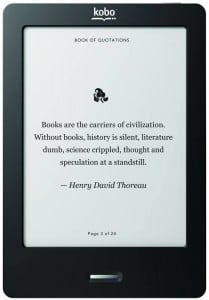 At the Book Expo America conference, Kobo has debuted its new e-book reader, which eschews buttons in favor of a touch experience similar to Barnes & Noble's announcements today and the latest crop of Sony Reader hardware. The device was announced a day before the Barnes & Noble announcement, and sports a slate form factor with an infrared touchscreen for $129 when it ships in June.
The device comes with a 6-inch Pearl e-ink display with a Zeforce-enabled touchscreen layer that uses infrared technology to detect touch input. The Pearl display is the same type of e-ink technology that's found on the current generation Kindle from Amazon, and offers better contrast and sharpness than its predecessor. Freescale is the chipset used inside the new Kibo eReader Touch Edition, which allows for faster page turning. There is a singular home button on the front bottom center of the device, which takes users back to the home screen.
With touch, users can now easily highlight text in a book and also search for words inside a book using the on-screen keyboard.
The company will be makind backs for the Kobo eReader Touch Edition in black, blue, violet, and silver.
While Kobo runs its own e-book store, it is more closely associated with Borders in the U.S.
Via: Engadget