Kobo Tries to Compete with Amazon, One Free E-Book a Month
In an offer to owners of its e-reader hardware, Kobo is offering a free e-book download a month to avid readers. Users who purchase a Kobo e-reader tablet or E-Ink e-reader between November 24 through March 31, 2012 will be able to download an e-book a month gratis from Kobo starting January 2012.
The selection, however is limited to Pride and Prejudice, HBR's 10 Must Reads: On Managing People, and Star Wars v. Star Trek.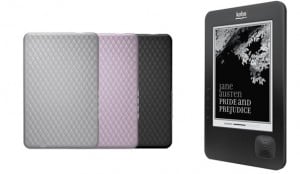 The move is seen as a responsive measure to Amazon's recent Amazon Prime Lending Library, which gives users of new Amazon hardware a free ebook rental–without any due dates–a month. Amazon's selection is a bit more expansive and broad, with numerous titles in the New York Times top seller's list.
Via: Engadget