Kudos For TEO 3.0 And Don't Forget That Contest To Win A Free License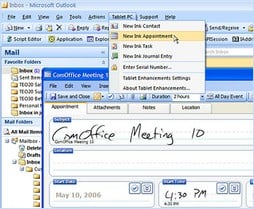 Rick Segal of The Post Money Value slings some kudos Josh Einstein's way for TEO 3.0, and the kudos extend beyond the excellence of the software. Segal points up accurately that ISV's and developers should pay attention not only to how a "properly ink enabled application should function" but also how Josh appraoches customer relations and much more. Here's a snippet:
TEO 3.0 is a welcome add on to any Tablet PC. Josh Einstein and crew is a company you will like doing business with. The evolution of the product and the company is something every software start up should track.
I hope others pay attention.
And don't forget to get your contest entries in. We're giving away two free licenses to TEO 3.0. Follow the link for the details on the contest. Entries need to be in by Sunday night. Watch, listen, learn, have some fun and get Inking in TEO 3.0 for free!