Kudos to the Vista Usability Team
Get this. I'm copying all of the files from the My Documents folder on my xp c drive to the documents folder on Vista. As most of you know, the My Documents folder contains My Music, My Pictures, My Videos, etc.
Well, in Vista those folders are moved up a level underneath the profile name instread of residing underneath My Documents:
Rob/Pictures
Rob/Music
Rob/Documents
etc
So, as I'm pasting all the files from My Documents to the Documents folder on Vista, I get this message saying that the files in My Pictures will be moved to Pictures instead, and then asks me confirm. I get the same message on My Videos, and My Music. The Vista Usability Team anticipated that folks would do this and decided to make it easier on handling the move of the files automatically. Very cool.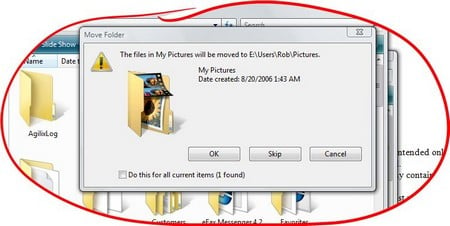 As an Amazon Associate I earn from qualifying purchases.