Kuna Home Security Camera Review
The Kuna is a home security camera built into an exterior light fixture to provide not just adequate home security, but make your house look even better with a new porch light.
The security camera portion of the Kuna is discreetly built into the bottom portion of the light fixture, but the camera is still made to be seen by anyone who walks up to your front door. The company says that the camera isn't supposed to be hidden, but rather blend in with your house better than a blatant security camera mounted to the wall.
Read: The Best Smart Home Products
The $200 Kuna camera gets its power from the light fixture's wiring, and it uses WiFi (connecting to your router) to provide access from your smartphone, so there's no need to run additional wiring to the camera, which is a huge plus.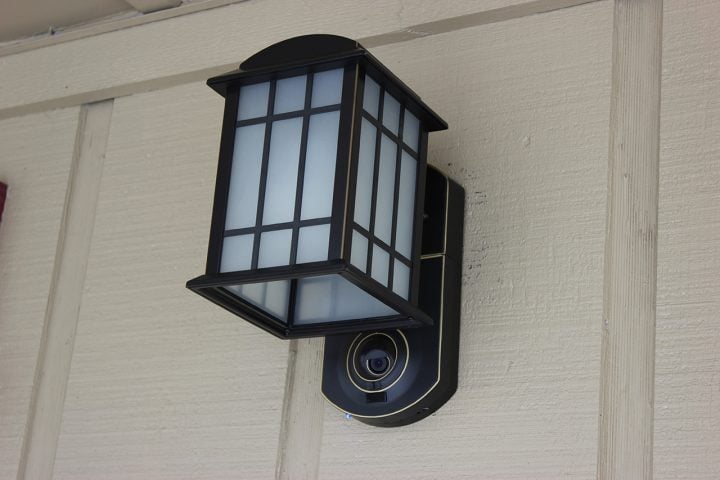 If the Kuna looks familiar to you, that's because it's nearly identical to the Maximus Smart Security Light available at Home Depot. Maximus is actually owned and managed by Kuna's global manufacturing partner, and the Kuna app and cloud features power both Kuna and the Maximus Smart Security Light. It's likely that Home Depot just licensed the Kuna device and packaged it into their own branding, but I'm not exactly sure on the specifics of that.
In any case, the unit is mostly made of plastic with a few metal parts here and there, so it's certainly not the kind of quality that you'd expect from a $200 light fixture by any means, but you're really just paying for the camera, and the light fixture is sort of an added bonus.
Nonetheless, the camera can more than handle outdoor weather conditions, especially if its mounted underneath an awning of some kind, and it's handled the cold weather here in the midwest like a champ so far.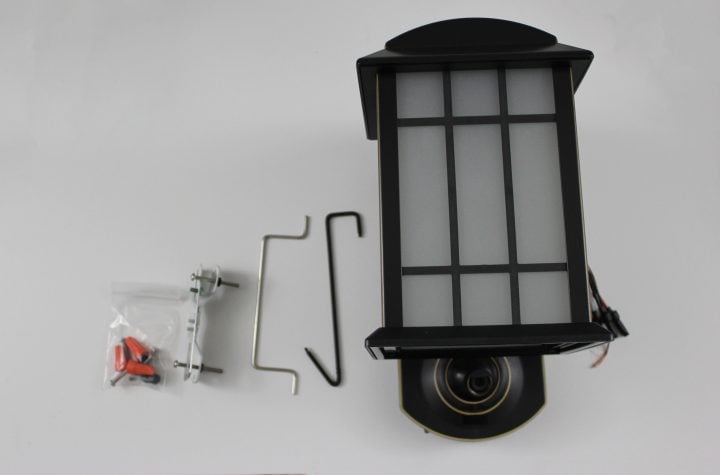 The Kuna comes with the necessary items that you'll need for installation, including the mounting bracket and wire nuts, as well as a couple of other nifty tools that make installation a bit easier.
Installation of the camera is exactly the same as installing any light fixture in your house and there are no extra fancy wires to deal with. You might think that it's something best left for a professional electrician, but it's perhaps the most basic of projects and only requires a screwdriver.
Simply unscrew the old light fixture, undo the three connected wires, and take the old fixture completely off. Then, wire up the three wires to the Kuna camera (black to black, white to white, and bare copper to bare copper) and screw the light fixture in. If you have any trouble, refer to the included instructions, and if you're absolutely not comfortable performing the installation, then I guarantee there's someone you know that can easily do it for you for free.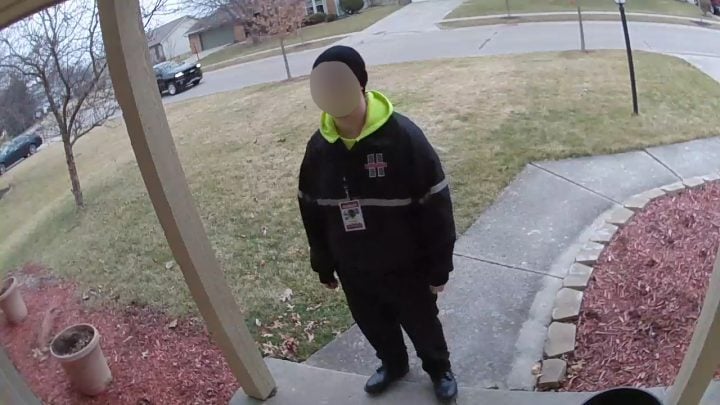 Once the fixture is installed, you'll want to keep the light switch on at all times, as this is how the built-in camera gets its power. The company should really include a light switch cover of some sort so that way users know not to flip the switch off. You could just cover up the switch with some tape, but that can look pretty tacky.
Once you have power and you download the Kuna app, it's just a matter of connecting the camera to the app and then you'll be good to go. The setup process for this is really easy and takes less than a minute.
The app overall is easy and simple to use. You can see a live video feed of the camera, and then there are buttons for sounding an alarm, push-to-talk, and turning on the light manually, as well as a button for playing pre-recorded messages like "Hi, can I help you?" Unfortunately, you can't record your own messages, but that's not really a huge deal.
There aren't a whole lot of settings that you can mess with, which is fine by me, but when it comes to customizing alerts and such, there's not much to work with. You can, however, customize the built-in light and choose to have it automatically come on at night, or only have it turn on when the camera detects motion.
There's definitely some glare on the camera lens from the light at night. It seems that the company is aware of this, and they recommend using a 450-lumen bulb to minimize the glare. I used an 800-lumen bulb and there's definitely some glare, but it's not that bad — you can still clearly make out anything that appears in the frame without much trouble. If you want, you can put a piece of plastic on the bottom of the fixture to block some of the light from creating a glare, but it's really not that big of a deal.
The camera streams and records in 720p, which is fine for the most part. We're guessing the quality is capped at 720p in order to provide a smooth stream over WiFi without too many hiccups, and the quality of the 720p video isn't anything too impressive. It's certainly not crystal clear, as I couldn't quite make out text and logos on the left breast of shirts from people knocking on our door, but it's good enough to make out faces and see who exactly is at the door.
However, considering that other WiFi security cameras come with 1080p capabilities, we're not exactly sure why Kuna left it out.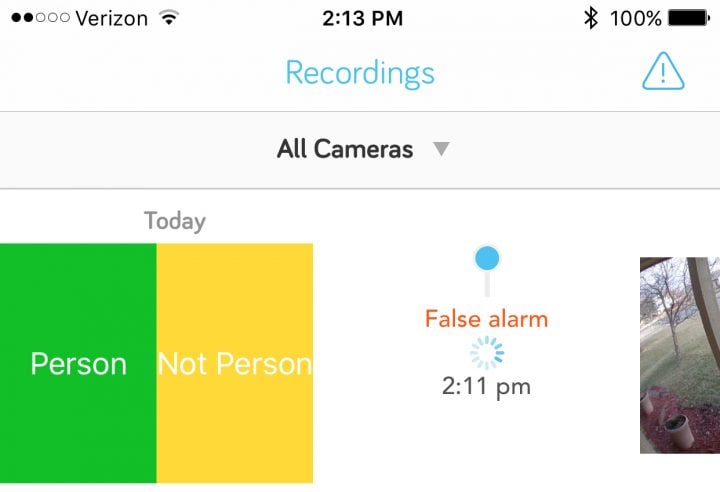 You can teach your Kuna camera not to send you an alert when it detects something like a car pulling into the driveway or your family dog (for example), and the company says it will instantly take that info and change around the algorithm so that you won't get alerts for that kind of stuff. You can also send a feedback message if someone came to your door and the camera didn't detect them, further improving the algorithm.
You can adjust the sensitivity of the motion that it detects, and when it's set to 100, it pretty much will alert you to anything that it detects, so I turned it down to 75 and that seems to be working great. However, whenever it snows and everything is white, anything would set off the camera, so I had to turn the sensitivity way down whenever it snowed outside. Furthermore, the snow messes with the camera's exposure, turning it way down, so it's a bit difficult to make out faces at times.
When the camera detects motion, it will automatically start recording and save it to the cloud so that you can view it later and even download the footage locally to your smartphone. This feature is free, but the company recently launched premium plans that start at $4.99/month, which will store recordings for longer periods and offer unlimited downloads. The free plan only keeps recordings for two hours and you only get three downloads per month, so it's definitely worth it to upgrade to even the most basic premium plan.
It doesn't record video to a server 24/7, but whenever the camera detects movement, it'll start recording the last 10 seconds before that, as well as continuing to record when it continues to detect movement.
However, while the Kuna is a really neat device, it's not without its downfalls.
It takes around 5-10 seconds or so for the live video feed to load, which is an eternity when you have someone waiting at your door. The WiFi signal wasn't a problem (or at least it shouldn't have been), as my 802.11ac router was literally 10 feet away on the other side of the wall, so the upstream speeds shouldn't have been an issue here, especially when I have 35/35 Mbps internet speeds.
Granted, I found myself not viewing the live feed that often anyway, simply because I can go to the door and look through peephole to see who's there, but it's still seems like a mysterious issue that Kuna should look into.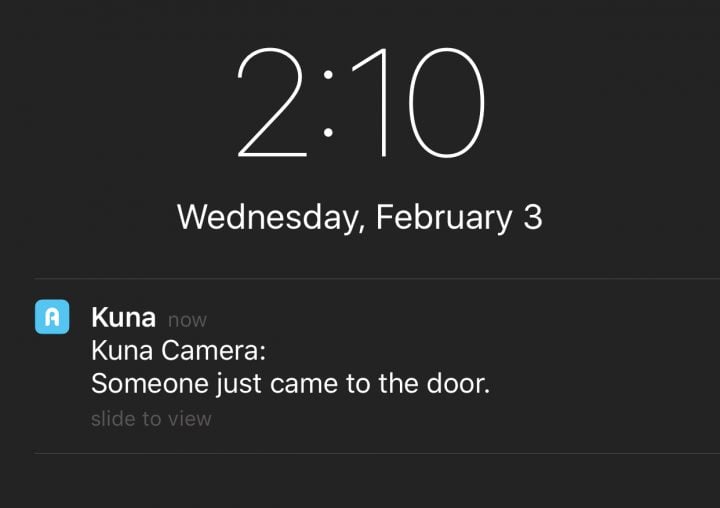 Furthermore, once the live video feed loads, it can be a bit choppy. Sometimes there's as much as a five second delay from realtime, and sometimes it's only one or two seconds. Most of the time, though, it will send me a notification fairly quickly, with my phone vibrating about a second after I hear the doorbell ring.
Personally, I found Kuna to only be really useful for recording any motion and viewing it later, but being able to instantly see who's at your door without waiting an eternity for the video feed to load would be awesome. Doing some research and reading other users' experiences shows that this looks to be the norm, though.
Changing WiFi networks was also a bit of a problem, and while the Help Center had a topic on the matter, it simply told me to redo the setup process and provided no other details. In the app, there's no way to remove a camera and re-add it or even give me the ability to change the WiFi network that it's connected to (I guess you would only need to do this if you got a new router or something, but still), but I finally figured out that you can go through the process of adding another Kuna camera to your setup, but simply just add the one you already have and it will replace it.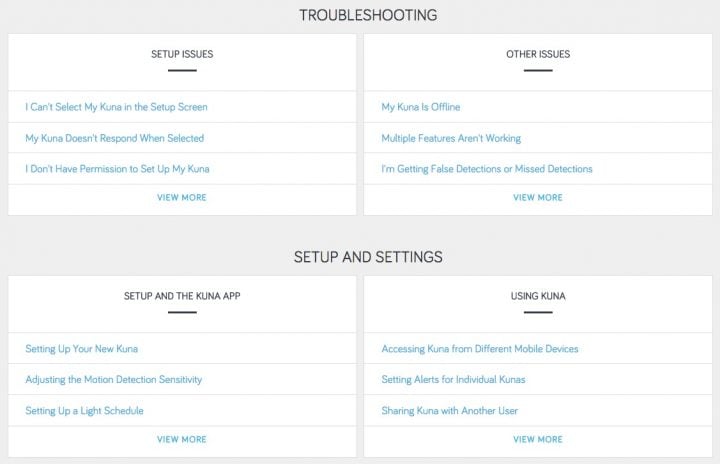 I contacted Kuna support about this issue and found out that they only provide customer support through email, which may not be ideal for everyone, but I was able to get a response in less than 30 minutes for each of my questions and problems. That's not a bad response at all.
Perhaps the biggest competitor to the Kuna is the Ring Doorbell, which we reviewed in the past. Both devices are fairly similar, but the Ring Doorbell obviously has an integrated doorbell system and the entire unit can operate on battery rather getting constant power from the wall (although it can still be hard-wired to an existing doorbell and ding your traditional doorbell as well). The Ring Doorbell also has a wider field of view, which can be nice, but the Kuna's 116-degree field of view is plenty for most front doors.
Personally, I prefer to have a traditional analog doorbell, so the Ring isn't quite my cup of tea, and for those who are the same way but still want similar security camera technology, the Kuna is next in line.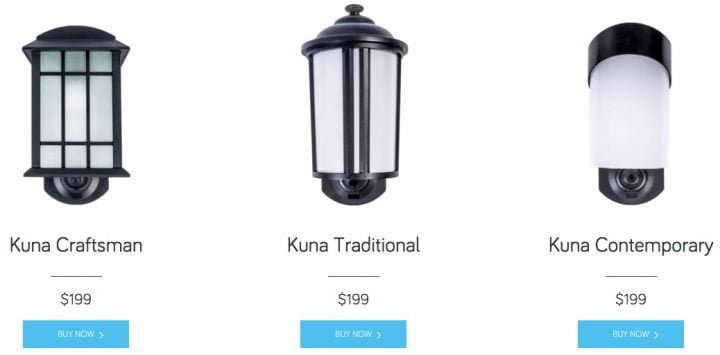 Kuna is still in the early adopter stage and the company says that it's still refining its product, so while there are a few things that need improving, it seems that Kuna is aware of these issues and is working on making the camera better. And since the camera is in its early stages, support for third-party services like IFTTT, HomeKit, etc. is non-existent, but that should hopefully change in the future.
Overall, I really like the Kuna camera/light fixture combo. My old porch light was really ugly and needed updating anyway, so it was a kill-two-birds-with-one-stone type of situation. Of course, if you already like your existing porch light, Kuna will be releasing a light-less version later this year, called the Toucan.
The $200 price tag may scare you away, but it's actually quite competitive. Ring's new Stick Up Cam is nothing more than a battery-powered security camera and is priced at $199. Furthermore, the Nest Cam is $199 as well. With the Kuna, you're essentially getting two products for the price of $199: a security camera and a light fixture, giving you more bang for your buck.
Of course, there are things that need improved, but it's a young product that will no doubt mature as time goes on.

As an Amazon Associate I earn from qualifying purchases.