Kuna Toucan Security Cam Spices Up Existing Porch Lights
One of the most exciting smart home products around that doesn't get a lot of attention is Kuna, which makes a WiFi security camera that's integrated into an accompanying porch light fixture. However, the company has announced a new product that lets you use the security camera with your existing light fixture.
It's called the Kuna Toucan, and it comes with a security camera, speaker, motion sensor, and siren built into a CD-sized circular enclosure that's about an inch-and-a-half thick.
The point of the Toucan is so that users who don't want to replace their existing light fixture can buy the Toucan and get the Kuna technology without buying the Kuna light fixture.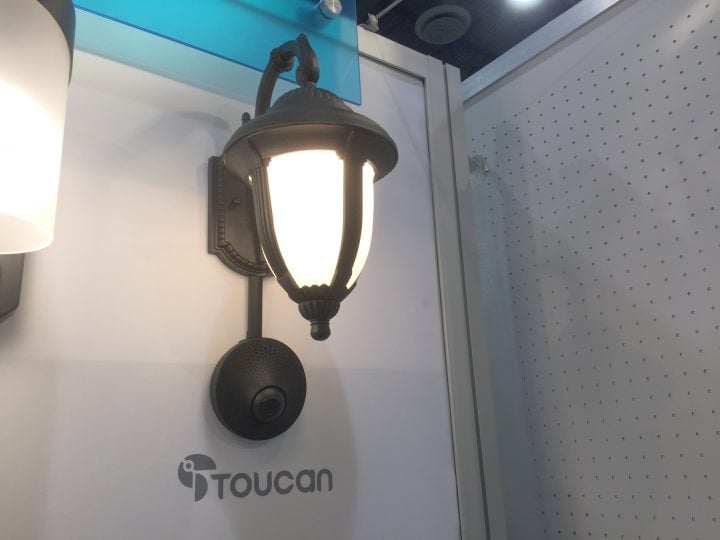 Haomiao Huang, Co-founder of Kuna, says that replacing a light fixture is really easy, but if you have a porch light fixture that you really like, you can buy the Toucan as an alternative to the original Kuna. Furthermore, if you're not a huge fan of Kuna's three light fixture designs, then Toucan is a good option as well.
There's also an accompanying app for your smartphone that lets you stream the camera's view whenever you want. It doesn't record video to a server 24/7, but whenever the camera detects movement, it'll give you the last 10 seconds before that, as well as continuing to record when it continues to detect movement.
You'll get 720p video, which isn't the best, as 1080p video would be more ideal, but 720p is certainly enough to get a good look at whoever is at your front door, thanks to a wide 116-degree field of view.
The Toucan doesn't have an official price, but the company says that it will most likely sell for $199 and be available later this year at some point.

As an Amazon Associate I earn from qualifying purchases.