Laptop Mag Reviews the Samsung NC20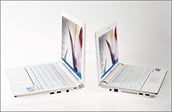 I was very impressed with the Samsung NC10 Netbooks I got to examine at CES2009. That unit just felt right in my hands (the build quality was excellent) and certainly the battery life beat out the competition from all reports. The newer, larger (12 inch instead of 10 inch) Samsung NC20 is turning a lot of heads, and not just because of its size but the fact that it is running VIA's Nano U2250 processor with Chrome9 HC3 integrated graphics, instead of the almost ubiquitous Intel Atom chipset.
Joanna Stern at Laptop Mag got her hands on a Korean model of the NC20 and has given it a thorough review. She finds that by and large it performs on par or better than some other Netbooks. For a 12 inch device, which to my mind straddles the Netbook/Notebook line, this one might just continue to blur those lines even further, provided it gets enough distribution to make a mark.
Check out the full review here.

This article may contain affiliate links. Click here for more details.