Laptop Magazine Takes A Look At The HP TC4400 Tablet PC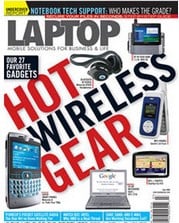 Laptop Magazine takes a look at HP's Core Duo TC4400 Tablet PC. You can't get the review on line in the July issue but you can pick it up on newstands.
Some quick highlights from the review:
Pros
Superb speed
excellecnt keyboard
strong stylus performance
Cons
lackluster lcd
pricey
no internal optical drive and the external optional is bulky
And a summary:
"the lenovo x41 remains our favorite 12.1 inch convertible because it's .5 lbs lighter (with the extended battery) and costs 600 less, but the hp tc4400 is a good choice for speed demons who demand dual core performance in a compact design. If you can live without an integrated optical drive, this notebook/tablet is a solid choice."

As an Amazon Associate I earn from qualifying purchases.