LaptopMag Goes Hands On With CTL 2go Convertible Netbook Tablet PC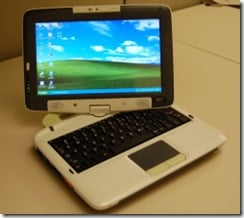 A $500 convertible netbook tablet pc? You bet! And if LaptopMag's early hands-on experience holds true, then CTL's 2go Netbook (Intel Classmate) just might be the thing to break all this ""Tablet PC is niche talk". I wonder if we can get LaptopMag to install Windows 7 on it? Check out their full review and video here. LaptopMag's conclusion:
Until we get a look at ASUS' touchscreen Eee PCs we can firmly say the 2go tablet looks to be the most promising netbook with tablet capabilities on the market. Though the keyboard is an area of concern, its durable features, accelerometer and responsive touchscreen are all compelling for a $500 price. However, to make our final assessment, we will need to get a production unit.

As an Amazon Associate I earn from qualifying purchases.