Latest Galaxy Note 3 Rumor Suggests Samsung Expanding Multi-View Window to More Apps
Samsung had introduced its simultaneous multitasking Multi-View windows feature on the Galaxy Note 2, and it's proven to be a popular feature among power users despite its more limited nature. With the latest round of leaks and rumors surrounding the Galaxy Note 3, the follow-up to Samsung's successful phablet line, Multi-View windows may get expanded.
Multi-View windows on Samsung's Galaxy range of smartphones and phablets allow users to run two Android apps side-by-side. Users can re-size the windows that these apps occupy to give more room to one app. It's similar to snapping windows side-by-side on the desktop in a feature introduced by Microsoft on Windows 7. This simul-tasking environment is also similar to a feature that Kyocera had introduced on its dual-screen Kyocera Echo smartphone a few years ago on Sprint. The phone never really took off, but Kyocera's simul-tasking idea lives on in Multi-View windows.
On the Note 2, and even now subsequently on the Galaxy S4 smartphone, Multi-View windows is limited to a small number of core apps and some Google apps. Furthermore, some carriers may limit what apps can be used with Multi-View windows so the list of apps that are supported by this multitasking tweak can be shrunken even further.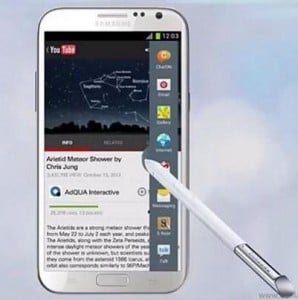 However, the Note 3, according to SamMobile, is now said to come with 3 GB of RAM. RAM is used primarily for multitasking and is system memory that gets used by active programs. The 3 GB of RAM is a 50 percent increase from the 2 GB of RAM on Samsung's U.S. variant of the Galaxy S3 and on all variants of the Galaxy Note 2 as well as many recent high-end tablets, including the Galaxy Tab series and the Galaxy Note 8 and Galaxy Note 10.1 tablets.
So why the increase in RAM? With all the extra features introduced by TouchWiz on the Galaxy S4, including new gestures and active smart sensors, the Galaxy S4 is still a fast and svelte device that doesn't seem to slow down.
One logical guess would be that the increase in RAM would be for expanded multitasking. And given how popular and well-received the Multi-View windows feature is, Samsung may likely improve on it. The natural progression for Multi-View is to make more, if not all, Android apps compatible with this tweak. It'd be nice to use my favorite IM program and respond to emails at the same time, or perhaps watch a third-party video program like Netflix and run a third-party news or stock app simultaneously.
Other rumors–or perhaps they're wishful thinking and hopeful guesses–for the Note 3 would be a larger display. Given what Samsung has done to the Galaxy S4, one can extrapolate and posit that the rumored 6-inch screen for the Note 3 would fit on a device that's about the same size as the Note 2. Samsung may use the slimmer bezel techniques it is designing on the Galaxy S4 to make this bigger screen while keeping the same body size on the Note 3 possible. Additionally, the company Exynos 5 Octa should be standard fare on the Note 3, as is 4G LTE connectivity in countries with LTE networks. A metal design has also been rumored for the next-gen phablet.
Samsung has historically launched its Note phablet at the IFA trade show in the fall, and the Galaxy Note 3 is also expected to make its debut there if traditions stay the same.