Latest HP Spectre, ENVY Ultrabooks Adds Touch Technology
Along with having introduced the hybrid ENVY x2 convertible tablet running on Windows 8, HP also introduced two new ultrabook models adding the company's TouchSmart touchscreen technologies. While slim and powerful, these ultrabooks differ from the ENVY x2 in that the display is not detachable. Rather, users have the option of controlling the HP Spectre TouchSmart Ultrabook or the HP ENVY TouchSmart Ultrabook 4 from either the trackpad or the built-in touchscreens.
HP Spectre TouchSmart Ultrabook
The original HP Spectre was initially unveiled earlier this year at the Consumer Electronics Show and features a lot of Gorilla Glass in its design. Since then, HP has gone back to a more traditional metal finish and the HP Spectre TouchSmart is a continuation of that premium design. The ultrabook features a 15.6-inch multi-touch Radiance Full HD display with IPS technology and an all-metal design that tapers to just 17.9 mm at the thinnest point. The package weighs 4.77 pounds.
The newest member of the Spectre family features the latest Intel Core processors and is the first HP notebook to feature the Thunderbolt port. The notebook also features an mSATA solid-state drive with Intel Rapid Start, Intel Identity Protection Technology, Intel Anti-Theft Technology, Intel Smart Response and Intel Smart Connect technologies, and a full array of ports, including Gigabit Ethernet, USB 3.0 and HDMI.
The notebook is expected to retail starting in December in the U.S. at a starting price of $1,399.
HP ENVY TouchSmart Ultrabook 4
Like the Spectre TouchSmart, the HP ENVY TouchSmart also features a multitouch display. While the Spectre comes with a Full HD display, the ENVY comes with a 720p HD screen. The ENVY measures 23 mm thin and weighs the same as the Spectre at 4.77 pounds.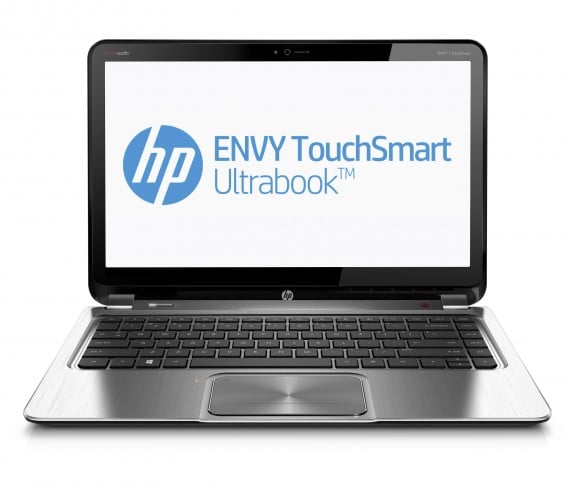 The ENVY can be powered for up to 8 hours on a single charge and will utilize the "latest Intel processors, solid-state drive options, and the same Intel technologies available on the HP SpectreXT TouchSmart Ultrabook. HP innovations such as HP CoolSense, HP Imagepad, HP ProtectSmart, HP TrueVision HD Webcam, HP Connected Photo, HP Connected Music and HP Connected Backup also are included." The device will also have the option for AMD graphics card with 2 GB graphics memory.
The ENVY TouchSmart will arrive in time for the holidays and pricing will be announced at a later date.

This article may contain affiliate links. Click here for more details.