Latest Leaked Nokia Lumia 928 Shows Boxy Edges for Verizon
The latest leaked press photos for the Nokia Lumia 928 now show the side edges of the Verizon-bound 4G LTE smartphone. The new design, if these pictures are accurate, shows that Nokia may be ready to trade in its award-winning pillow top design that the company debuted since the Lumia 800 smartphone in favor of a more angular design. The phone shows straight edges, rounded corners, and a slightly curved and tapered backing to make it more comfortable to hold. In fact, the phone resembles the T-Mobile USA Nokia Lumia 810 a lot.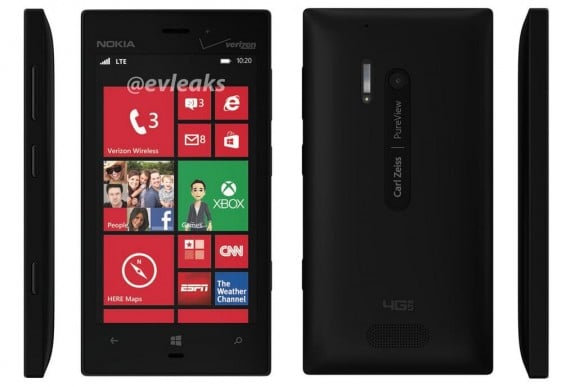 The latest leaked photos come by way of Twitter user @evleaks.
The Lumia 928 should bear similar specs to the Lumia 920 flagship that's currently being offered on rival carrier AT&T Mobility. Both devices will have an 8-megapixel PureView camera with optical image stabilization. The main difference will be that the Lumia 920 employs the use of a dual LED flash mechanism while the Lumia 928 uses a single LED and a Xenon light for flash. If Nokia continues its camera technology from the Nokia 808, the LED light will likely be used for autofocus assist as well as a video torch light while the Xenon will be employed for flash.
One of the chief complaints with users of the Lumia 920 is the device's rather thick size and heavy weight. It's unclear if the Lumia 928 has slimmed down any in thickness and weight despite its boxy angular appearance.
The device is expected to be launched fairly soon on Verizon Wireless. The differentiating factor for the Lumia 920 and this Lumia 928 will be the ability to record videos without shake and also to capture images in low light conditions without having to resort to using a flash. But in case you do need a flash, the Xenon flash will be far better than any LED flash that's on competing camera phones on the market today.

As an Amazon Associate I earn from qualifying purchases.