Latest Nexus S 4G OTA Update Boosts Sprint's 4G WiMax Speeds, Kills Free Tethering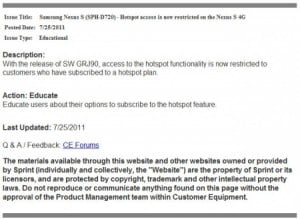 Sprint and Samsung are beginning to roll out the delayed Nexus S 4G software update. The update corrects a number of bugs, but the biggest improvement may be seen in speedier 4G WiMax upload and download speeds. However, not all is good news with the update. While the faster mobile broadband speeds are a welcomed improvement, Sprint is also killing off free tethering in the process. Instead, tethering on the Nexus S 4G after the update will be restricted to those Sprint customers who subscribe to a tethering plan.
The move isn't really shocking considering AT&T's and Verizon's recent moves to restrict tethering to those paying the fees to be on the appropriate data plan. However, with the Nexus S device, which is supposed to be unmarred by manufacturers and carriers, the move does raise a few eyebrows.
As the Nexus S debuted with Google's Android 2.3 Gingerbread software, the OS did natively allow for tethering. In this sense, it is a bit surprising to see Sprint tighten its grip on the Google experience.
Via: Android Central

This article may contain affiliate links. Click here for more details.