Latest Screen Grab Leak Shows Verizon Almost Ready for Family Shared Data Plans
Verizon has made it no secret that it intends on switching from data plans offered on individual devices with mobile broadband 3G and 4G LTE radios inside to family shared data plans, similar to family plans for voice minutes, where devices can pull and share from a bucket of monthly data allotment. It appears that the carrier is almost ready to make good on its promise that family shared data plans will be coming this year as the latest leaked screen grab shows that Verizon wants to help its customers figure out how much data they should purchase in a bucket for all devices on this plan. The data plan, which can be applied for various smartphones on a family plan and perhaps to an individual smartphone plan that includes a mobile broadband USB modem, a MiFi hotspot, and a tablet, will help consumers add data to more devices cost effectively.
The screen grab of the 'Family Data Usage Calculator' shows different items that Verizon is examining, such as number of emails a family sends per day, how many web pages a family visit, to how many gaming hours of online gaming a family does.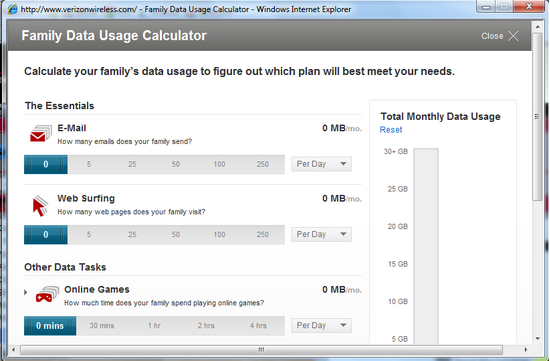 The aim of family shared data plan is to make it more affordable for consumers to add more screens to their lives. Right now, beyond having a data plan for a smartphone, many consumers find it expensive to add a tablet, notebook with integrated mobile broadband, a USB modem, and/or a dedicated mobile hotspot device to their lives as each device would require an individual data plan. Much in the same way that smartphone and phone adoption have increased with family voice plans as it only cost $10 to add a new line to share the same voice minute bucket, family shared data plan would work in the same way and make it affordable, easy, and cheaper than current billing methods to add more data-capable devices.
Prices and terms were not leaked in the latest screen shot leak.
Rival AT&T also has plans to offer family shared data plan. With the debut of family shared data plan, it's another sure sign that neither carrier will be reverting to unlimited smartphone plans for those who were wishful or hopeful that either AT&T or Verizon would change their minds.
Via: Phone Arena