Leak: iPhone 5 Display to Sprout Live Plants
Every day just seems to bring us more juicy info about the iPhone 5. Today, news comes from ZimbabweiPhoneFans that the iPhone 5's Retina display will not only serve as the window to your apps, but it will also sprout its own real-life garden.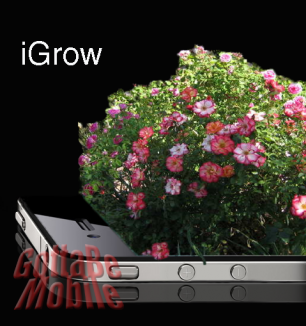 iGrow
Dubbed iGrow, the new capabilities utilize Apple's breakthrough digital hydroponics technology. After entering an Apple ID and syncing with iCloud, iPhone 5 users will be able to browse the AppStore's new Gardening section, where they can choose from a variety of seeds to get things started.
Simple iPlants like daisies and petunias will be free downloads, but hot-ticket veggies like strawberries, cilantro, and zucchinis will be available for purchase. Some iPlant developers are said to be planning "Freemium" seeds, which will grow for free until they reach maturity, after which an in-app purchase will be required to unlock the plant's adult stage.
Apparently the most innovative part of iPlant is how the plant will double as the phone's antenna. "This frees up space inside the phone," said the source. "The plant can be concealed with a touch of the home button whenever users want to check their email or play Angry Birds."
Jailbreakers React
As amazing a revolution as iPlant is, the jailbreak community may come off with the biggest hit (no pun intended) from this iPhone upgrade. After hearing the news, Cydia developers immediately got to work on developing an iPlant that will grow medical marijuana for registered patients.
One of those developers, R01dg33k, was first to the line, and is already testing a beta version of his medical cannabis app, known as iRelief (above).
When asked about the legality of selling a product that lets any jailbroken iPhone user grow cannabis in his screen, the hacker replied:
It's a concern of ours, and we're looking at options to make sure only licensed medical marijuana patients are able to use it.
When pressed as to what some of those security measures are, he responded:
Well, we won't actually "block" any non-medical marijuana patients from using it per se, but we'll definitely put a warning on the screen that discourages them.
Purpose?
Aside from offering lucrative opportunities for the jailbreak community, it isn't clear exactly what Apple's motivation is for introducing gardening abilities to the iPhone 5.
Bob Stuber, from the blog Raging Snowball (which has a great record with Apple leaks) speculates that the company is merely thinking ahead, and – whether we realize it or not – this is the direction that future mobile devices are going. "In five years, digital gardening will be in every device," he blogged. "By introducing it now, they're undercutting the competition and forcing them to play catchup. Smart move."
Whatever their reasons, Apple is certainly pushing the envelope of what smartphones can do with this release. And, in the process, they may have (unwittingly) given people one more reason to jailbreak.
What do you think? Does this get you more excited about the iPhone 5? Or would you prefer the Samsung Galaxy S II? Let us know in the comments!
Editor's Note: This is, of course, satire. Until the non-stop jetstream of iPhone 5 rumors and "leaks" ends, we just might keep doing these.