Leak Says Xbox Durango is Always Online, Will Require Game Installs
New leaks claim the next Xbox, code-named Durango, will require an always-online connection and game installs on the hard drive.
The leaks come from VGLeaks, and include screenshots of the Durango Xbox Development Kit, which developers use for creating game for the upcoming console. The leaks are dated from last year, however, so there's a chance Microsoft will change some aspects of the console between now and its launch. Seeing the SimCity launch debacle, it wouldn't be surprising to see gamers upset if Microsoft requires a constant connection to use the Durango. SimCity requires a constant connection, which made the game unplayable for several days after its release.
The leak claims the next Xbox will require a constant Internet connection. Presumably the Xbox Durango will use that connection to help prevent piracy. The connection may also prevent gamers from buying and selling used games. Currently Microsoft and developers don't profit from used game sales, typically only stores like GameStop get any profit from selling used games.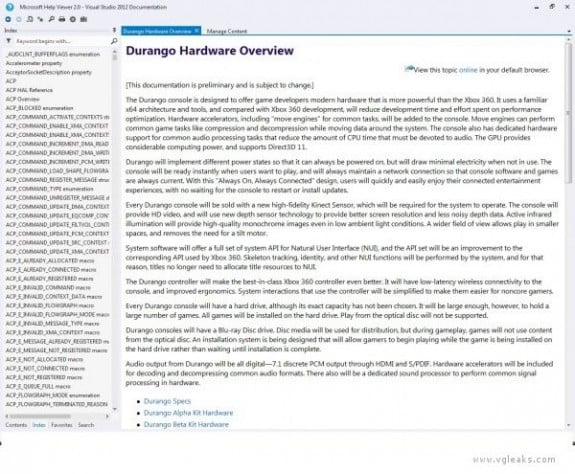 Each Durango console will also include a large enough hard drive to hold a number of games, according to the leaks. The console may require installs in order to play games, and large hard drives would make sure gamers have a lot of space for numerous games.
The next Xbox may not even have the ability to play games from discs. The 50GB Blu-ray discs the console will allegedly use may only hold data that can install the game. That could mean that games won't need discs to play installed games. Each game may come with an activation code so other gamers can't install the game from the disc.
The current Xbox 360 lets gamers install games on the hard drive, but it's not a requirement and the console still needs the disc in order to play installed games.
Other rumors for the next Xbox include a new Kinect sensor that's smaller and doesn't have to tilt to see players. There's also a chance Microsoft will include expanded Smart Glass functionality in the new console.
Microsoft will likely detail everything about the Xbox Durango by E3 in June, with a release sometime this fall. The console will go head-to-head with the Sony PlayStation 4, which will come to stores this holiday.

As an Amazon Associate I earn from qualifying purchases.