Leaked BlackBerry Roadmap Reveals BlackBerry 7 OS, QNX Coming End of 2011?
A leaked slide deck from Research in Motion obtained by n4bb hints that the next-generation BlackBerry OS, called BlackBerry 7 OS, will be hitting sometime around November 2011, though at this time it's unclear whether this will be in limited fashion as a developer preview, as an upgrade to BlackBerry 6.x devices, or on new hardware first with upgrades rolling out after to older devices.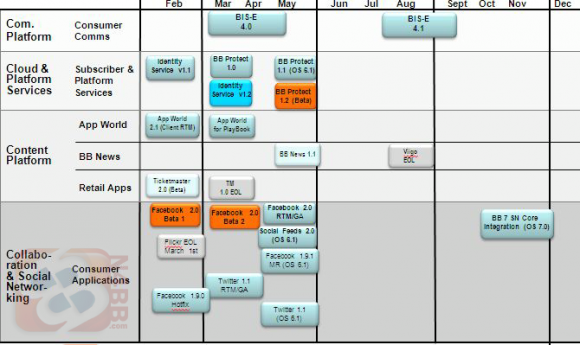 Leaked BlackBerry hardware in the past–for both GSM and CDMA models–reveal that hose BlackBerry models, including updates to the Curve, Bold, Torch, and Storm along with new devices like the Curve Touch, will be launching with NFC support and BlackBerry 6.1 OS.
BlackBerry 7 OS is believed to be a port from the BlackBerry Tablet OS powered by QNX which will debut on the BlackBerry PlayBook. The Blackberry 7 OS platform will help to begin to unify RIM's smartphone and tablet ecosystems together, though it's unclear if the OS will bring app compatibility between the two different platforms. For now, RIM's Tyler Lessard told me at GDC 2011 that apps purchased on RIM's smartphones will not work on the BlackBerry PlayBook–you'll need to buy tablet-specific apps for the PlayBook via App World.