Leaked Chromebook Pixel Looks to Join Hybrid Touchscreen Form Factor
With tablets that want to be laptops and laptops that aspire to be tablets, hybrid form factors are the new rage for 2013 and a leaked video shows that Google is not one to be left behind with its Chromebook Pixel prototype. The Chromebook Pixel appears to be a premium device with a 'designed by Google' meme that appears on the video suggesting that this could fall under Google's Nexus branding.
Unlike previous Chromebook efforts that have been delivered by OEM partners like Samsung, HP, Asus, and others, this Chromebook, dubbed the Pixel, will be a high-end device with a high resolution display and a hardware design that looks similar to Apple's MacBook Pro line or HP's Envy lineup.
As it is a Chromebook, it will run Google's Chrome OS and will have a display with a 2560 X 1700 pixel–for comparison, the Nexus 10 tablet manufactured by Samsung has a resolution of 2560 X 1600 pixels. Additionally, the Chromebook, which uses a clamshell laptop form factor, will also have a touchscreen display. Various laptop manufacturers have begun to add touchscreen displays and various tablet manufacturers are also equipping their devices with keyboard docks, blurring the lines between the varying form factors. It's unclear if Chromebook Pixel will be competing with traditional Android tablets, like the Nexus 10, with its touchscreen.
The video, which was originally posted by Android Authority, has been reposted below for your reference.
The video does corroborate a rumor we'd heard at the end of last year about Google making a touchscreen Chromebook.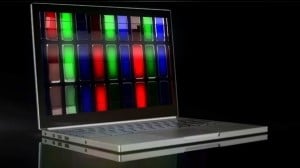 It's unclear if this leaked video was faked or if it is in fact a real video for Google. It's also unclear at this time if Google intends on producing or manufacturing the Chromebook Pixel if the video is real. According to Android Authority, the site hosting the video privately was hacked, and hackers had re-posted the video to YouTube.
Soon after the video hit Google Plus, the clip was taken down, but we were able to snatch a copy. The video description suggested that the clip was made by a company called Slinky.me, whose CEO Victor Koch then took to Google Plus to announce that its servers were attacked by hackers. Attackers than allegedly made several videos of projects that Slinky.me was working on available on YouTube.
It's interesting to also note that the leaked video comes just a day after U.S. reviewers had begun publishing their opinions on Microsoft's Surface Pro tablet, another hybrid form factor device that straddles two computing categories of laptop and notebook/Ultrabook.
At this point, it's also unclear what pricing for a device like this would be. Google's Nexus 10 tablet starts at $400 in pricing and the
Samsung
-made Chromebook that is reminiscent of the MacBook Air design costs $249.

As an Amazon Associate I earn from qualifying purchases.