Leaked Display Panel Shows iPad 5 is Inspired by iPad Mini
After a number of leaks of the rear casing of the iPad 5's rear casing, we now have a leak of the front glass display panel for Apple's fifth generation iOS tablet. The iPad 5's display shows that the device will be inspired by the smaller iPad mini, with a large display area and slimmer side bezels that would help to reduce the size and weight of the tablet and make the device easier to hold and more portable.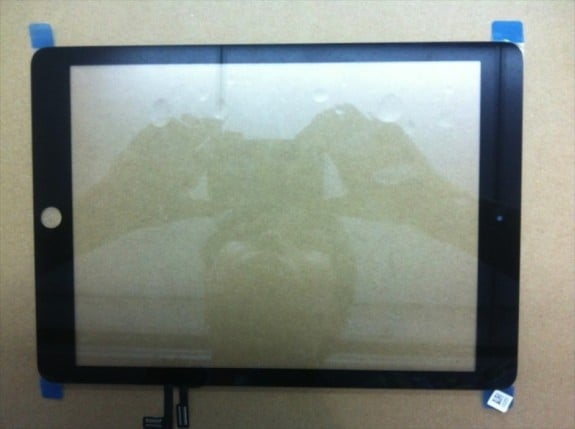 These new leaked photos of the front panel of the iPad 5 come by way of Australia's MacFixIt website. The website says that the supplier claims that this is a genuine front panel that comes by way of an Apple supplier. MacFixIt sells parts for do-it-yourself at home repairs of iPad in case your tablet has a broken screen. The display panel for the iPad 5 is currently listed as out of stock.
In addition to the front, we now also have a good look at the rear of the panel and the connector cable. The connector cable is said to be different than what Apple is utilizing on current and past generation iPad tablets, including the iPad 4, 3, and 2 models. Here's what the site says:
The display area is the same as the iPad Retina.
The edges of the frame are narrower using the same style as the iPad mini. – The ITO (Indium tin oxide) is the same as the iPad mini.
There is now 2 connectors instead of 1.
The connectors have been changed from FFC (Flat Flexible Cable, like the iPad 2/3/4) to FPC (Flexible Printed Circuits, like the iPhone 4/5).
A part number of 821-1892-02 was imprinted on the front of the display, and the formatting of this number matches what Apple had used for a lot of the components found on iOS devices, according to MacRumors. 
The iPad 5 is expected to go into mass production next month and an announcement is expected for fall.

As an Amazon Associate I earn from qualifying purchases.