[Updated] Leaked Droid Does Landing Page Reveals $300 Droid Bionic Price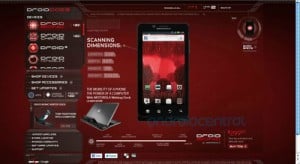 Update: According to Phandroid, the image is a fake Photoshopped picture. 
Those who are eagerly awaiting for Verizon Wireless to release the flagship dual-core Motorola Droid Bionic on its 4G LTE network can expect to pay $300 for the 4.3-inch qHD display smartphone on contract at launch. An early leak of the DroidDoes.com landing page had revealed the $300 on-contract price tag, which would require customers to sign a two-year contract to obtain the subsidized pricing of the smartphone. The $300 price would make the Droid Bionic among the most expensive smartphones available, matching the 32 GB high-end iPhone 4 pricing.
At this point, it is still not known what the un-subsidized, contract-free pricing of the Motorola flagship smartphone will be for those unwilling to sign a contract.
Android Central reports that the smartphone will see a traditional 4.3-inch display form factor and not the previously rumored 4.5-inch display.
The phone is expected to launch on August 4th, according to recent leaks, with a dual-core gigahertz Texas Instruments OMAP 4 processor, like that found on the recently released 3G Motorola Droid 3, along with 1 GB RAM, 8-megapixel rear camera, 2-megapixel front-facing camera, and Webtop support, like on the Motorola Atrix 4G on AT&T. Like the Atrix, the Droid Does landing page also shows the same laptop keyboard dock similar to the AT&T device, which would convert the smartphone into a laptop.
Those who balk at the pricey $300 tag can either look towards other retailers, like Amazon, to perhaps discount the phone to attract customers, or wait a few weeks for Verizon to drop its prices on the device if history is any indication. The carrier routinely discounts its 4G LTE smartphones within weeks or months of other devices' launches, and the Droid Bionic may be subject to the same pricing if the carrier continues its discounting strategy.
The landing page also designates the Droid Bionic as a 4G LTE device, like the competing Samsung Droid Charge smartphone, which has a single-core Hummingbird processor and lower resolution WVGA display that uses the Super AMOLED Plus screen technology.

This article may contain affiliate links. Click here for more details.