Leaked Images of LG Optimus G2 Reveal Fingerprint Sensor, Rear Volume Buttons?
It looks like the Optimus G2, part of LG's new G Series that is rumored to sport a powerful Snapdragon 800 processor, may have some design surprises. Newly leaked images of LG's highly anticipated Optimus G flagship successor shows that LG has considered an interesting placement for the volume keys on the rear of the phone just below the camera pod. Additionally, it seems that LG may have included what may be a fingerprint sensor on that device.
On the rear of the device, it looks like the camera is positioned in the center top. When looking at the phone from the backside, the single LED flash is positioned to the right side of the camera module.
Just below the camera, it appears that there are "+" and "-" keys, indicating that these keys are now positioned on the rear towards the top portion of the phone in the center.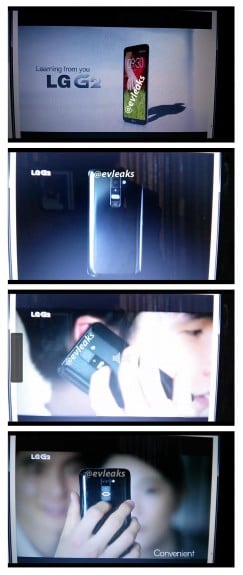 And there is a strip that separates the "+" and "-" keys on the back. It's unclear what that strip may be, but our editors at GottaBeMobile are placing guesses that this may be a fingerprint scanner, not unlike the one on the Motorola Atrix 4G, which launched with a power button that doubled as a fingerprint sensor on AT&T several years ago.
Previously, it was only revealed that LG would use an edge-to-edge button-less design for the front of the device.
LG is not new to biometric security. The company had launched the LG eXpo Windows Mobile 6.5 smartphone some years ago that came with a fingerprint sensor. That sensor also served as an optical trackpad as well allowing users to swipe their fingers up or down when on a webpage to scroll. This allows users to scroll through long webpages and documents with one hand and without needing to touch the touchscreen.
If the module on these leaked images of the LG Optimus G2 posted by @evleaks on Twitter is in fact the fingerprint scanner, it's unclear if the module will serve double duty for other functions, like an optical trackpad, power button, or other uses.
The device is expected to be announced at LG's international event in August in New York City. The phone is rumored to be coming to Sprint Nextel in the U.S., which had also carried the LG Optimus G.

As an Amazon Associate I earn from qualifying purchases.