Leaked Images Show PlayStation 4 Controller With a Touchpad
Two leaked images from Destructoid and All Games Beta show what could be the controller for the upcoming PlayStation 4, which has a touchpad or touchscreen built into it.
Both images show a wired controller with the traditional PlayStation button layout, but with one major addition. Between the iconic PlayStation buttons and the D-pad, is a black glass surface. That surface could be a small touchscreen (it looks about the size of the  iPod nano scree, if not a bit bigger), or a touchpad, depending on who's talking about it.
Both photos are of an early prototype controller, so the final device will likely look a bit different. Previous rumors have mentioned a touchpad, however, so that glossy black portion will likely remain in the final version of the controller. Other parts of the controller, like the redesigned sticks, may change, however.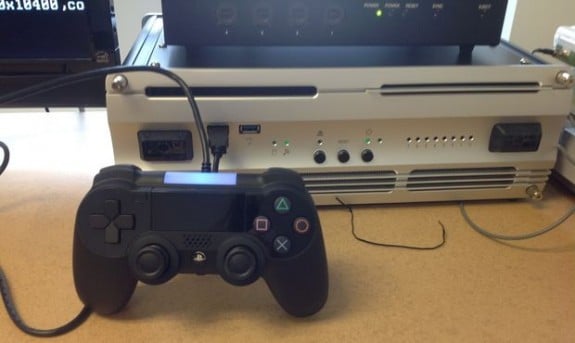 One image also shows a blue light on top of the controller, which could mean it's PlayStation Move-enabled like the EyePad tablet Sony recently received a patent for. If the controller does use support PlayStation Move, the PlayStation 4 will be able to track the controller's movement in 3D space. It could bring more motion control to the tablet than the sensors in the current PlayStation 3 controller.
Both controllers also show a headphone port on the bottom of the controller, which could mean Sony will give gamers wired headset support in the next console.
Missing from both photos is the rumored Share button which would share gameplay videos and screenshots to social networks easily. The controllers are prototypes, however, so there's a chance Sony just didn't implement the button yet.
Sony will likely announce the PlayStation 4 at its event in New York City on February 20. The console will likely come to stores this fall, around the same time as the Xbox Durango and Apple's rumored Apple TV with apps.