Leaked Manual Confirms More Droid Bionic Features
TechnoBuffalo has gotten their hands on a purported tips and tricks guide for the upcoming Motorola Droid Bionic and it has revealed some previously unconfirmed features while confirming some of the details we saw in that initial leak.
It appears that the Motorola Droid Bionic will indeed coming with a 4.3-inch qHD screen. Nothing new but that should put doubts to rest. It'll also have an 8MP camera with LED flash capable of 1080p video recording and will feature a front-facing camera with an unknown pixel count for video calling. That's not new either. We've already gotten a good look at both Droid Bionic cameras.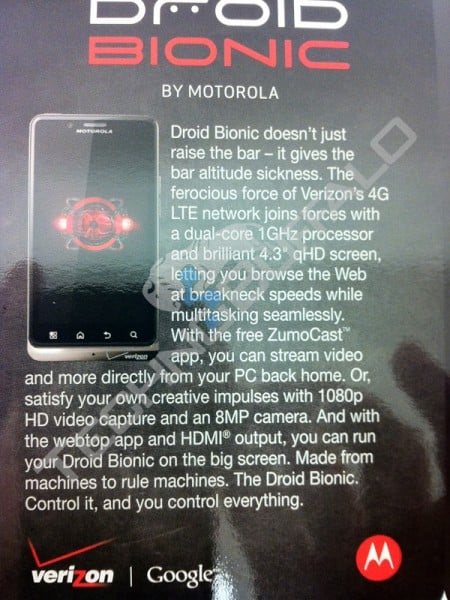 Now, let's take a look at some of the other stuff. First, it's going to have mobile hotspot support. Most of you probably assumed this was going to be the case and now we have confirmation.
It'll also have the Zumocast app on board which will allow you to stream content from your computer on your phone and it will have a grand total of three microphones situated around the device.
And as we deduced from photos awhile back, the Droid Bionic is going to have webtop capabilities in a similar way that the Motorola Atrix 4G does. That means that it will be able to be plugged into an optional dock to be used like a laptop.
The Droid Bionic will also have access to the same HDMI-out Mirror Mode that is on the Droid X2 allowing you to take content on your phone and play it on your HD television. It's a fantastic feature, believe me. It'll also have 16GB of internal memory and will also have 1GB of DDR2 RAM on board. Thank you Motorola for not slouching on the RAM.
Wi-Fi printing is apparently a go as well.
We now have a pretty clear cut view of what to expect from the Droid Bionic when it arrives, we just hope that Verizon and Motorola make that rumored September 8th release date official sometime soon.
So what do you think? Is Motorola going to live up to your expectations?

As an Amazon Associate I earn from qualifying purchases.