Leaked Moto X Launch Date Suggests Verizon Prioritizing Flagship Droid Ultra
A newly leaked inventory screen shot suggests that Verizon would be launching the newly announced Moto X flagship from Google-owned Motorola Mobility just days after it offers the Droid Ultra, Droid Maxx, and Droid Mini on sale. The Verizon-branded Droid exclusives made also by Motorola bear roughly the same hardware specs as the Moto X and would become available to customers on August 20th while the Moto X, which would be available on all major national carriers in the U.S., will be arriving on August 23rd.
The screenshot did not reveal any pricing information for the Moto X smartphone, according to the leak posted on Android Central. AT&T is pricing that phone at $199. Verizon is also pricing its exclusive Droid Ultra flagship at $199. It's unclear where Verizon intends to position the Moto X next to the Droid Ultra as both devices offer similar hardware specs and software customization.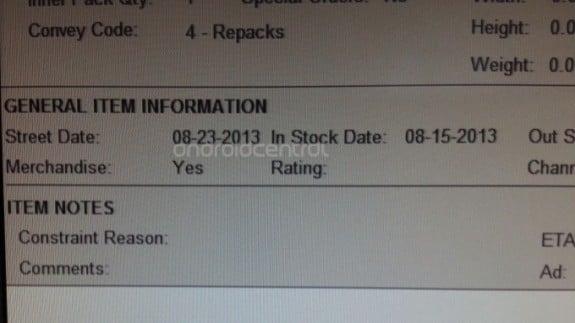 Thus far Verizon hasn't officially committed to nor announced an official launch date for the Moto X so all of this information should be taken with a grain of salt as things could still change at the last minute.
All three Droid-branded smartphone along with the Moto X run on a dual-core processor and bear a 10-megapixel ClearPixel camera sensor. The devices come with Motorola's new software that allows users to control and answer their calls and messages from a computer, activate the camera with gestures, and command their phones with their voices at any time even when the display is off. Motorola also did away with notification lights and instead is showing notifications on the AMOLED display so users will know they have a missed alert as well as know what the type of alert is, whether it's a missed call, an unviewed text message, or a new email awaiting their attention.
Additionally, the Moto X for Verizon will be fully customizable from a hardware aesthetic point of view at a later date this year, matching what AT&T will be offering.

As an Amazon Associate I earn from qualifying purchases.