Leaked Nokia Windows Phone 8 "Phi" Could Be Successor To Lumia 800
A new leaked Nokia smartphone could be the Windows Phone 8 follow-up to the Nokia Lumia 800.
According to WP Central, the leaked Nokia "Phi" Lumia phone could be Nokia's first dual-core Windows Phone (which means Windows Phone 8). The yellow smartphone has the same design of the Lumia 800, complete with the curved screen that Nokia left off the Lumia 900.
The Nokia Phi is larger and heavier than the Lumia 800, and has a 4.65-inch display instead of a 3.7-inch display. We don't know the resolution of the display, but we hope Nokia would use at least a 720p display instead of a 480×800 display. The phone will still have the same three capacitive buttons below the screen and four buttons on the right side.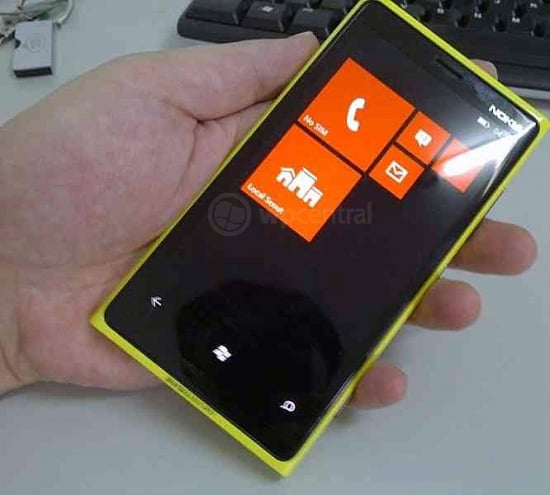 Other new features of the smartphone include an external SD card slot, NFC, and 4G LTE. The former two features are new features of Windows Phone 8. The SD card slot lets users add more storage space, while the NFC chip can help with mobile payments using the new Wallet Hub in Windows Phone 8.
The device will likely be able to ship in late October, just a bit earlier than the rumored November release of Windows Phone 8. This could be the phone Nokia plans on launching at Nokia World in September, one week before the rumored iPhone 5 launch. If it is that phone, we hope it comes in more colors like the Lumia 800 and Lumia 900. We really like the cyan Lumia 900, and we'd love to see that color on a more modern smartphone.
The Lumia 900 launched on AT&T earlier this year as a $99 Windows Phone offering, earning admiration in our Nokia Lumia 900 review. Since launch the Lumia 900 saw a price drop to $49.99 likely tied to the low number of Nokia phones sold in the U.S. during the past quarter.