Leaked Press Photo of Lumia 928 Emerges with Verizon Branding, Xenon Flash
The Lumia 928 has been, until now, like a fabled tech unicorn. However, it's presence has been confirmed by the latest leaked press images, posted on Twitter by famed leakster @evleaks, showing Verizon's branding on the front and rear surfaces as well as an LED and a Xenon flash. Moreover, the more straight edges and angular design bear more of a resemblance to the HTC 8X (also known by its more formal Windows Phone 8X by HTC name) than to its close Lumia 920 cousin found on AT&T's U.S. 4G LTE network.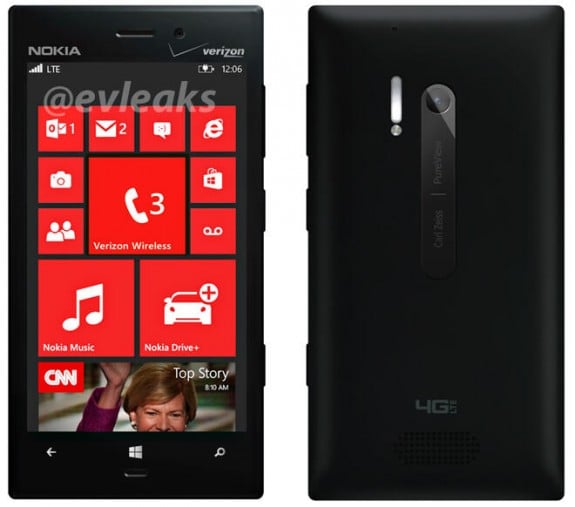 Like the Lumia 920 flagship currently, the Lumia 928's leaked photo confirms the PureView imaging technology alongside the Carl Zeiss lens optics. It's speculated that the camera module itself should be similar to the PureView used on the Lumia 920, rather than the 41-megapixel large sensor of the Nokia 808 Symbian smartphone. That said, the Lumia 928 should be able to capture amazing low light photos without the need for a flash.
Speaking of flash, in the event you need one, there's a dual flash mechanism that combines a traditional LED flash along with a Xenon flash. This replaces the dual-LED flash mechanism on the Lumia 920 and the Xenon flash should provide for accurate color reproduction and could freeze motion in dark situations. Xenon's flash strength is used on many point-and-shoot cameras and is considered superior to LED flash thanks to its brighter output.
The phone has been rumored for an April launch on Verizon. At this point, it's uncertain if the Lumia 928 will be coming to other markets or other carriers outside of Verizon.
The phone is said to be both thinner and lighter than the Lumia 920 on AT&T. The straight edges, angled back beveling that gives it a pyramid structure is very similar to what HTC had done on the HTC 8X. This phone does away with the pillowtop design that debuted since the Lumia 800 on Nokia's Windows Phone flagship models.
A prior leak suggests that the Lumia 928 will come in bright, colorful aluminum shells for Verizon's network. What was shown is a black model, and it's unclear if it's a metal enclosure that's used.