Leaked Schematics Show iPad 5 Will Be Even Thinner Than iPad mini!
Newly leaked schematics for Apple's much rumored fifth generation iPad tablet, or the iPad 5, reveal that the slate will be much slimmer than the current iPad with Retina Display, Apple's fourth generation iPad. In fact, the measurements indicate that the fifth generation full sized iPad would be a hair slimmer than the already slim iPad mini and the tablet will be about 25 percent slimmer than the iPad 4, which is quite an incredible feat.
Moving from the first generation iPad to the iPad 2, Apple had slimmed down the tablet and shaved off some of the heft from the first gen model. However, in adding a Retina Display to the third generation iPad, Apple also re-added some of the bulk and weight, which continues on the iPad 4, a slight refresh of the iPad 3 that adds a Lightning port in exchange for swapping out the old 30-pin Dock Connector.
Now, if Apple is able to keep specs the same or better, and also offer a 25 percent size reduction and what may be a weight reduction as well, this will help reduce some of the cannibalization that the smaller iPad mini has had on the full size iPad model. The lighter, slimmer, and more portable iPad mini has been eating away some of the sales of the regular iPad model as it's cheaper and more easy to carry around.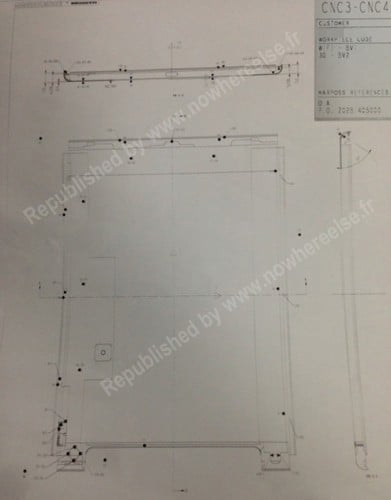 With the iPad 5, the schematics also show that Apple will be shaving off some of the width of the iPad, moving to slimmer side bezels in a design trend that debuted with the iPad mini. Additionally, the tablet will also bear more of the iPad mini's design aesthetics as well.
The schematics were initially posted by NoWhereElse.fr, which according to Slashgear is "undoubtedly proven to be reliable" in past leaks.

This article may contain affiliate links. Click here for more details.