Leaked Slides Show How Microsoft is Tackling the Windows Phone App Problem
With the Nokia Lumia 900 and HTC Titan II coming in just a few days, Microsoft has another chance to entice more smartphone users to use Windows Phone. But phones alone don't make an ecosystem. Microsoft needs to entice developers to create apps, and some leaked business slides show how it plans to do that.
According to the slides that ZDNet posted, Microsoft is putting aside $10 million to "ring-fence" app developers. Microsoft hopes to use that money to entice the developers of apps like Pandora, Instagram, and Bump to bring their apps to Windows Phone 7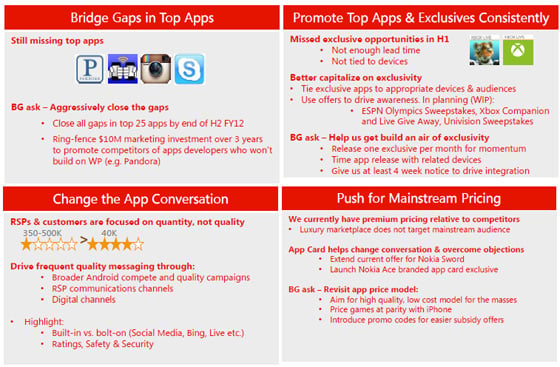 .
Microsoft needs some of these high-profile apps for its platform, though it doesn't see the need for the huge quantity of apps that Android and iOS have.
Microsoft wants to focus more on high quality apps instead of a high quantity of apps. To Microsoft, having 70,000 good Windows Phone apps is a lot better than 350,000+ bad apps. The company wants retail employees to sell this idea of quality apps while also highlighting the platform's built-in features like Bing Vision.
Exclusive apps are another point Microsoft discussed. Not just apps exclusive to the platform, but apps exclusive to phones. Apps like Nokia Maps, Nokia Drive, Nokia Read.
Given the Xbox Live integration in Windows Phone, Microsoft should have a big lead in mobile games. Microsoft is aiming for high quality games, but it needs them to sell for less. The company wants Windows Phone games to sell for around the same price as iPhone apps, which is to say just a few dollars at most.
Microsoft wants to "close all gaps in Top 25 apps" by the end of 2012, and these plans could help with that. Spending money and focusing on quality apps is a good way to start. Unfortunately, Microsoft wasn't able to get Angry Birds Space right away, but it will be on the platform eventually.
The app problem is a Catch-22 for Microsoft as it needs more users to get more great apps, but more great apps for more users. Maybe these new phones will help entice new users. Even then it might be tough, though. Just look at how long we've been waiting for Instagram to move to Android, which is a larger platform.
Via: The Verge