Leaked Sprint ZTE Flash Brings High-End Specs at Mid-Range Price
Those who are looking for a modern high-end smartphone with specs that include 4G LTE connectivity, a high-megapixel camera, and HD display may not have to look further than the affordably priced ZTE Flash. The ZTE Flash, which was seen leaked in recent days, now has its official press photos revealed showing an attractive design with rounded curves, similar to Samsung's Galaxy Nexus, and a camera humpo on the rear to accomodate a 12.0-megapixel shooter.
And given the high-megapixel camera, it appears from the leaked press image leaked by Twitter user @evleaks that the ZTE Flash will also have a dedicated camera shutter button, which is a nice feature for users who are mobile photographers.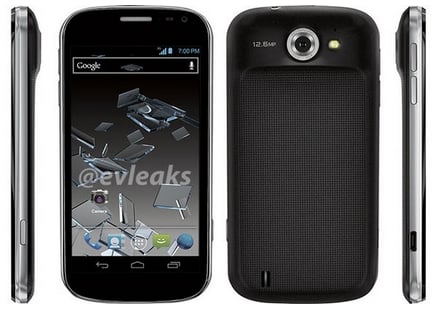 The device will also have other notable specs, including 4G LTE connectivity to Sprint's Now Network, a 4.5-inch IPS HD display, front-facing camera, 1 GB RAM, and 8 GB of internal storage. The device is said to be running Android 4.0 Ice Cream Sandwich at launch.
It's unclear what the processor the ZTE Flash will use, but likely it will be at least a dual-core CPU to remain competitive at the high-end spectrum. Given that Sprint already supports the HTC EVO 4G LTE, the Samsung Galaxy S III, the Motorola Photon Q, and the LG Optimus G, the addition of the ZTE Flash will definitely provide for a competitive lineup with the Flash being the most affordable fully-speced smartphone on the Now Network.
And even with these high-end specs, Unwired View is reporting that the device is expected to cost a mere $130 with a two-year contract, though neither Sprint nor ZTE has announced pricing nor availability formally for the Flash smartphone.
Given the holiday shopping season ready to kick off into full gear in November, hopefully the announcement will be soon, else the Android 4.0 Ice Cream Sandwich may seem a bit stale given that the Nexus 4 is debuting with Android 4.2.

As an Amazon Associate I earn from qualifying purchases.