Leaked Tegra 4 Specs Suggest Chip Six Times The Performance of Tegra 3
According to NVIDIA's mathematics, if 4 + 1 = Tegra 3, then Tegra 4 must be Tegra 3 X 6 as leaks for the company's forthcoming mobile-targeted processor is said to deliver 6 times the performance of the quad-core Tegra 3 model that's available today. The company will also move to a smaller 28 nm architecture, which will help reduce power consumption and increase processor efficiency, which hopefully in consumer terms means that we'll get remarkably improved performance with improved battery life on phones.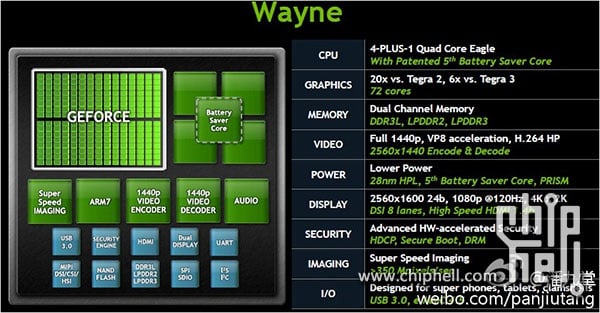 Tegra 4 has been known by its Batman-based Wayne codename and will utilize the same 4 + 1 architecture that powers Tegra 3. Essentially, Tegra 4 will be a powerful quad-core processor, with an extra core to do the light lifting to conserve battery life when you don't need the power, such as when the phone is idle. Additionally, the chipset will have a 72-core graphics engine that should theoretically handle 4K resolutions, though it's unclear if that's even needed right now as 4K TVs and monitors haven't even hit the consumer market. It should at least support displays with 2560 X 1600 and play 1080p HD videos at 120 Hz.
According to a leaked slide from NVIDIA obtained by Chip Hell and reposted on Engadget, it appears that the company is boasting that Tegra 4 will deliver up to 20 times the performance over Tegra 2 or up to 6 times the power of Tegra 3.
The chipset is based on the ARM Cortex A15 architecture and should compete with Samsung's Exynos 5 chipset, which debuted in dual-core form on the Google Chromebook.
Considering that the first phones to sport a Tegra 3 processor was announced earlier this year in February at the Mobile World Congress trade show in Barcelona on the international edition of the HTC One X, Tegra 4's arrival shouldn't be too far off as NVIDIA had committed to near annual, if not annual, releases of its mobile processors in the past.

As an Amazon Associate I earn from qualifying purchases.