Leaked Verizon Screenshot Reveals Samsung Galaxy Nexus Details
The folks over at DroidLife got a hold of a screenshot from Verizon Wireless' Device Management system that shows the Samsung Galaxy Nexus (thus confirming the name) and some of the features it will have on the carrier. 4G LTE is the biggie, giving the newest Nexus phone a speedy Internet connection. Also: this version of the phone won't be global.
Rumors abound about this phone, including one that pegs it as a Verizon Wireless exclusive. And if the hardware spec leak is true, this phone could be the sweetest device on the carrier, and not just because of the Ice Cream Sandwich involved. Thin, curved, with a dual-core CPU, Super AMOLED display, and NFC.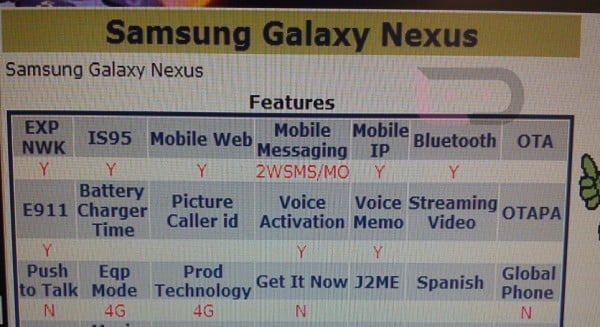 (Read: Samsung Galaxy Nexus Rumor Roundup: Latest on Hardware, Release Date)
Though the phone's announcement got pushed back from this week to next, there's not much mystery surrounding it at this point… except the price. Will it command a premium like the Droid Bionic or stick to the $199 price point we see in most new phones? Given how flashy it is, I'm expecting the former but will be glad to hear of the latter.
And then, of course, there's the excitement surrounding the operating system, Android 4.0. We've seen some leaked video and some features, but I can't wait to play with the whole OS.
(Read: Ice Cream Sandwich 2 Minute Video Tour Highlights New Android Features)
Google plans to make their official announcement on October 19th.