Leaks Confirm Windows 9 is a Start Menu Lover's Dream
New screenshots of what's purported to be Microsoft's upcoming Windows 9 operating system are confirming what other leaks, and the company itself have indicated: Windows 9 will be a traditional Windows user's dream come true.
German publications ComputerBase and WinFuture published what really does appear to be genuine screenshots from the Windows 9 Technical Preview said to be scheduled for a reveal later this month. In those pictures is just about every Windows 9 feature or change that's been rumored to be on the way.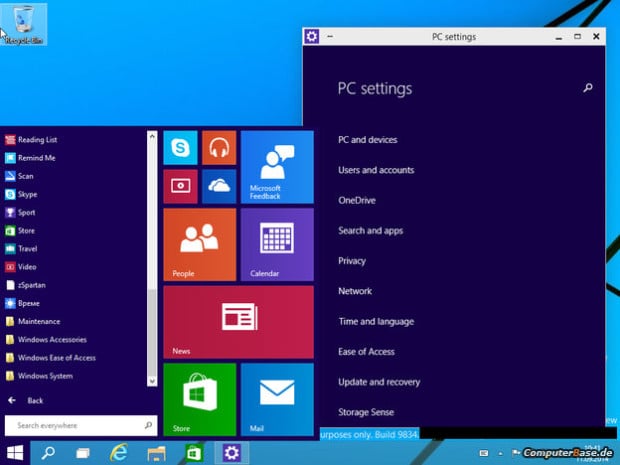 At its BUILD 2014 press conference Microsoft revealed that it had plans for at least some users to ditch the Start Screen and get the Start Menu back. At the time, it showcased a mockup of what it was planning. That early prototype looked like the Start Screen and included access to Windows Store apps and their Live Tiles. When activated that new Start Menu would take over just a small portion of the overall screen, instead of completely dominated a screen like the Start Screen does on all Windows 8 devices today. That Start Menu is present in one of the screenshots that were leaked today. Beside a scrollable list of applications is a section reserved for Live Tiles, though none of them are showcasing anything of value beside each app's icon.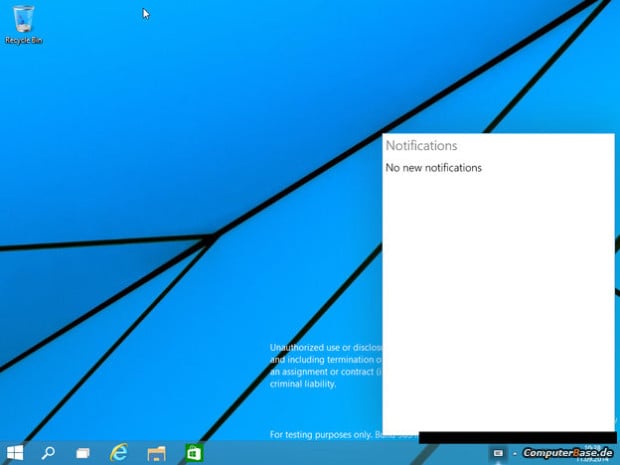 Windows Store apps are shown running in the Windows 9 Desktop interface in these screenshots too. That's also something Microsoft talked about at its BUILD 2014 event. By adding Windows Store apps to the Desktop, Microsoft is able to boost their profile with mouse and keyboard users too. Today, Windows Store apps can be used with a mouse and keyboard, but they're generally formatted better for users with touchscreens who are used to the way the Start Screen works.
These alleged Windows 9 screenshots do include some features that Microsoft hasn't publically talked about. Last month rumors indicated that Microsoft planned to let Windows 9 users create different Desktops to organize all of their apps. That feature is present in these alleged Windows 9 Technical Preview screenshots. By clicking a button just to the right of the Start button, users are able to segregate their personal apps from their professional apps and so forth for piece of mind. How many Desktops users will be able to create remains unclear, but three are shown in the screenshot and there's an option to add another.
The taskbar at the bottom of the Desktop also includes a search button. The screenshots don't reveal what they do exactly, but it's possible that it points to Cortana. Cortana is the digital personal assistant that Microsoft added to Windows Phone earlier this year. In the Windows Phone operating system, she's accessed by pressing a button that looks identical to the Search button in these screenshots. The pretty barebones notification center that outlets said was also coming in Windows 9 is present in these alleged screenshots too. The company seems to have started work on flattening the Desktop interface to match the design of other parts of its ecosystem too. That should help with the rather jarring design differences that marred the Windows 8 experience for early adopters.
Read: Microsoft Slips, Says Windows 9 is Coming Soon
All told, Windows 9 is shaping up to be a huge update for Windows, one that should at least make the new features that showed up in Windows 8 more palatable for users without a touchscreen. Microsoft is expected to detail what's in the Windows 9 operating system at an event later this month. At that time, even enthusiasts at home should be able to try the changes out on their own devices. When a final version of Windows 9 goes out to users and how much that update might cost remains unclear.

As an Amazon Associate I earn from qualifying purchases.