Leaks Reveal Microsoft's Lumia 950 XL iPhone 6 Plus Rival
With just a few months left until its expected reveal, we're finally getting a look at what some claim is the Microsoft Lumia 950 XL. That's the rather large smartphone with Surface Pen support that some thing is the ultimate iPhone 6 rival.
This week a member of Chinese forum site WPXAP revealed the very first pictures of the Lumia 950 XL. Where members of the forum got the picture is up for some debate, but it's safe to say the leaks are authentic. There are no obvious signs of tampering, no over the top design flourishes that would even hint at this being a fake device meant to capture attention.
That isn't to say that the iPhone 6 Plus alternative in this picture is what we'll actually see when Microsoft announces the Lumia 950 XL. In fact, these Lumia 950 XL pictures indicate Microsoft is doing everything in its power to ensure that we don't get to see what the Lumia 950 XL looks like until it is ready. The device is clearly a prototype, even the address for proto.microsoft.com appears on the device itself, permanently etched into its bezel.
Stamped on the top edge of this alleged Lumia 950 XL is the Microsoft logo. Just under that logo and a speaker grill is a huge, almost tablet-like display if you use the keyboard the device is sitting on for scale. That detail does jive with the Lumia 950 XL rumors swirling these days. Allegedly, the smartphone is meant to be a high-end phablet in the same vein as the iPhone 6 Plus and Samsung's Galaxy Note 4.
Reportedly, code-named Cityman, the Lumia 950 XL will usher in a new wave fo hardware for Microsoft. Since purchasing Nokia's devices and services division the company mostly focused on providing low-cost alternatives to Android devices and the iPhone 5c. We haven't seen a truly high-end, no comprise Windows Phone launched by Microsoft since the Lumia 930 launched. It featured a 5-inch AMOLED display, 20 megapixel camera and Windows Phone 8.1.
Allegedly, the Lumia 950 XL has a 5.7-inch display that uses OLED technology for deep blacks and more vibrant colors. An iris scanner lets uses login to their device without putting in their PIN code. A quad-core Snapdragon 810 processor with 8 processing cores and 3GB of RAM are said to power the Lumia 950 XL's Continuum features. Continuum is a software addition that Microsoft announced at a Windows keynote earlier this year. When connected to a monitor and a keyboard, buyers will have the option to use the Lumia 950 XL as if it were a full-fledged PC with apps that look and work exactly as they do on PCs. The option to turn on Continuum is seen in one of the leaks.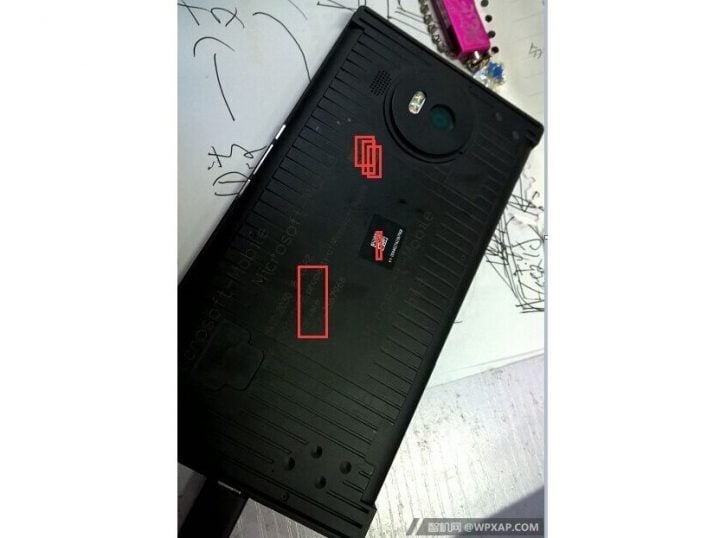 The Lumia 950 XL in these pictures is clearly next-generation. There's a USB Type-C support in one of the photos. That's huge for two reasons. First, Microsoft doesn't make any iPhone 6 Plus alternatives with a USB Type-C port already. Second, that too jives with what we've heard about the Lumia 950 XL already. USB Type C is a new reversible power port that replaces the microUSB ports we've used on smartphones for years. Those who are unhappy with the idea of a new type of charging port can at least take solace in Microsoft moving the USB port to the bottom of the device. Many of Nokia's high-end smartphones had ports on the top center, sometimes making them very awkward to hold.
Read: Lumia 950 XL vs iPhone 6 Plus
A look at the rear of this alleged Lumia 950 XL does show off a rather large camera pod complete with dual-flash. Unfortunately, it doesn't provide us with a very good idea of how the smartphone will feel in the hand or how it'll look when it arrives on store shelves. Windows Central is reporting that the rear case we see in the photographs is a decoy enclosure, a wrap that's meant to hide the phones true design and help Microsoft identify leaks. The case is covered in grooves and lines. Allegedly, it's these grooves that reveal who the prototype belongs to.
Microsoft could share release details and pricing for the Lumia 950 XL this fall. This could be on the same day that Microsoft announces the Lumia 950, it's smaller iPhone 6 alternative.